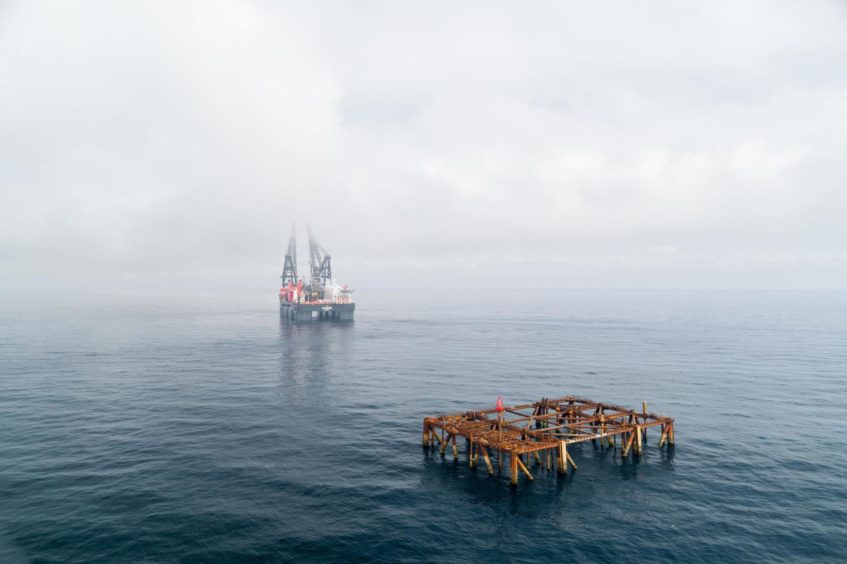 In the coming years, the North Sea has to face up to a decommissioning challenge like no other.
Billions is going to be spent as companies safely put their assets out to pasture; experience and expertise in retiring infrastructure is going to be vital.
Having "safely and efficiently" led one of the largest North Sea decommissioning projects to date, TAQA already has numerous feathers in its cap.
With the topsides for Brae Bravo weighing in at 36,000 tonnes, the campaign was "a major operational challenge".
Iain Lewis, director of TAQA's decommissioning operations, said: "It presented a great opportunity for TAQA to demonstrate the capabilities built up within the company and to learn lessons for ourselves, and the wider industry.
"TAQA in the UK gained significant experience in late life asset management, adding significant value and know-how in assessing, planning and executing decommissioning activities."
He added: "The experience we've gained in all aspects of the decommissioning process and the ability to repeat that across multiple other platforms enables us to set high standards for retiring assets in the North Sea in terms of safety, efficiency and value, whilst also creating employment opportunities throughout the supply chain."
Not content with simply removing and dismantling assets, the Abu Dhabi-headquartered company is also cognisant of its duty of care and environmental responsibilities.
TAQA is striving for a recycling target of 95%, and materials from Brae Bravo have been used to make belts, bags, cufflinks and even dog collars.
Getting decommissioning right now will be crucial to ensuring its done properly as the number of assets needing retired ramps up.
Only around 10% of the assets in the North Sea are currently in the decommissioning phase, and Oil and Gas UK's Decommissioning Insight for 2020 forecasts that more than £15bn will be spent in the space in the next decade.
Lewis believes it's a "huge growth area" for the industry, as well as a "prime opportunity" for operators and the supply chain to work together.
"To optimise our decommissioning programmes, we need to engage with the supply chain early about upcoming projects to discuss the best approach and ensure safety, efficiency and value are at the forefront," he said.
"Much of the decommissioning expertise we're building will be transferable across the wider energy sector.
"Eventually all sites, whether they're oil and gas producing or renewable, will need to be retired; we're focused on developing a blueprint for safe, efficient and cost effective large scale decommissioning which is applicable across the energy sector, globally."
Almost as important as decommissioning the assets themselves is learning from the process so that it can inform future campaigns.
Once the Brae Bravo programme is complete next year, TAQA will be able to draw on and share a decades' worth of learnings and successes.
Moreover, the complexity of the project is something many other companies will come up against soon enough, making clear communication internally and with partners fundamental.
Lewis said: "A key part of this programme that will inform our approach going forward is the organisational and team structure. Handling production and decommissioning programmes simultaneously is challenging.
"We set up a specific decommissioning directorate which became a centralised and accountable point for all decommissioning activity. At TAQA, we recognised that decommissioning of this scale isn't just another project with a solely technical focus.
"It brings together stakeholder engagement, supply chain management, regulatory and environmental interfaces, HSE and more.
"So separating decommissioning away from the core production business and creating one dedicated team streamlines the approach and fosters transparency and accountability."
Now that TAQA can begin to look beyond Brae Bravo, it can reflect on a project that has given it the experience needed to "confidently approach" similar schemes.
Decommissioning proposals are already in place for Eider, North Cormorant, Cormorant Alpha and Tern.
And these programmes will present "multiple opportunities" for the workforce, supply chain and wider industry as the North Sea enters its next chapter.
Lewis added: "In terms of how the supply chain can work with us, I think the key word is openness. We want companies to approach us with new, safe and environmentally sound ways of working. We're continuously looking to improve our safe and efficient decommissioning approach."
Recommended for you

TAQA plans end to North Sea production in 2027