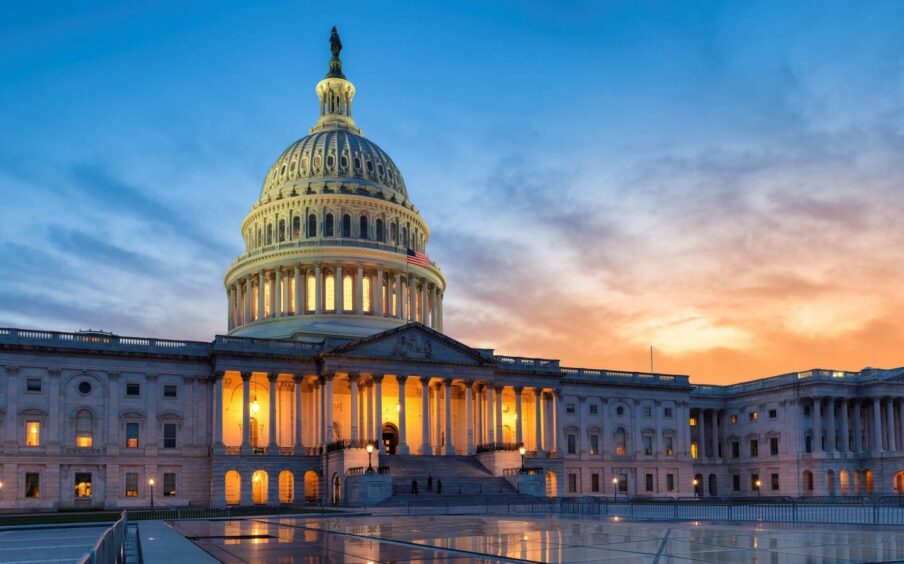 As the US Congress has spent the last year debating a slate of proposals to accelerate the transition to a clean energy economy, clean hydrogen has come to the forefront as an energy source that offers a politically and economically feasible path towards decarbonisation.
Itself a source of energy with important climate benefits when compared to incumbent fuels, it is also a much-needed storage medium for intermittent power sources. Congress has developed a synergistic amalgamation of tax and non-tax stimuli to advance hydrogen, and investors are well advised to follow these deliberations and subsequent implementation decisions very closely.
Hydrogen has been used for decades as a fuel for vehicles on-road and off, but technological advancements have made its production more cost-efficient and environmentally friendly. While hydrogen has traditionally been generated from natural gas through a process known as steam methane reformation, which generates some carbon dioxide, there are growing options to reduce its emissions profile.
First, the addition of carbon capture technologies can significantly cut the total emissions profile of hydrogen production from natural gas feedstocks, providing a path to market for more environmentally friendly energy. Second, with continued innovations in electrolysis, hydrogen can be generated via renewable energy sources such as wind and solar that do not emit carbon dioxide. Recent progress in the sector has encouraged both the Biden administration and Congress to throw their weight behind support for further research and infrastructure development.
Clean hydrogen has gained popularity because it offers unique advantages in decarbonisation efforts and hydrogen from fossil sources still has important environmental advantages over the sources it may replace or augment.
First, hydrogen is an essential and proven medium for energy storage that would work in conjunction with wind and solar power generation. Hydrogen fuels can substitute for renewables when the wind isn't blowing and the sun isn't shining, precluding the need for natural gas "peaker" facilities and resolving intermittency concerns that plague attempts to rapidly transition away from fossil fuels.
Second, hydrogen can reduce emission outputs from the industrial and transportation sectors. Industrial sectors such as steel and chemical production cannot draw on renewables as they require extremely high heat; fossil fuels have provided this power source but could be replaced by hydrogen feedstock. Compared to electric batteries, hydrogen fuel cells can better support heavy-duty vehicles without requiring extensive mining efforts to procure difficult to acquire critical minerals for advanced batteries.
Third, the hydrogen energy economy can be scaled up relatively quickly through existing infrastructure. Natural gas pipelines can be converted to transfer hydrogen, providing linkages between hydrogen facilities and increasing economies of scale. Developing additional hydrogen production sites requires overcoming far fewer legal obstacles than installing transmission lines and large scale renewable projects.
Congress has demonstrated particular bipartisan support for clean hydrogen in the Infrastructure Investment and Jobs Act that was signed into law by President Biden. The bill invests nearly $10 billion to demonstrate production, processing, delivery, storage, and end-use of clean hydrogen. The largest of these efforts is the planned establishment of at least four "Clean Hydrogen Hubs" that would demonstrate the feasibility and effectiveness of large scale hydrogen infrastructure investments. The bill also orchestrates a whole of government approach by requiring the Secretary of Energy to develop a "National Clean Hydrogen Strategy and Roadmap" that would guide federal policy and coordinate research efforts across the public and private sectors.
The proposed Build Back Better reconciliation package H.R. 5376 also includes significant investments in clean hydrogen. Most importantly, the bill establishes a new clean hydrogen production tax credit that would provide taxpayers with a refundable credit of up to $3 per kilogram of clean hydrogen produced. The credit would increase based on total lifecycle greenhouse gas emissions reduction, meaning cleaner hydrogen would be rewarded with larger tax credits. Clean hydrogen facility developers would also be eligible to elect to receive clean energy investment tax credits, which could provide the requisite financial backing to get some large scale projects through the "valley of death" between technological demonstration and commercialisation. These tax credits combined with direct investments and grants in the bipartisan infrastructure bill could provide the requisite market signals and certainty to accelerate the burgeoning hydrogen economy and spur technological innovations that will continue to reduce the emissions profile of an energy source that will likely prove essential in any decarbonisation effort.
Recommended for you

Grant Shapps new energy and net zero secretary as Sunak shuffles pack