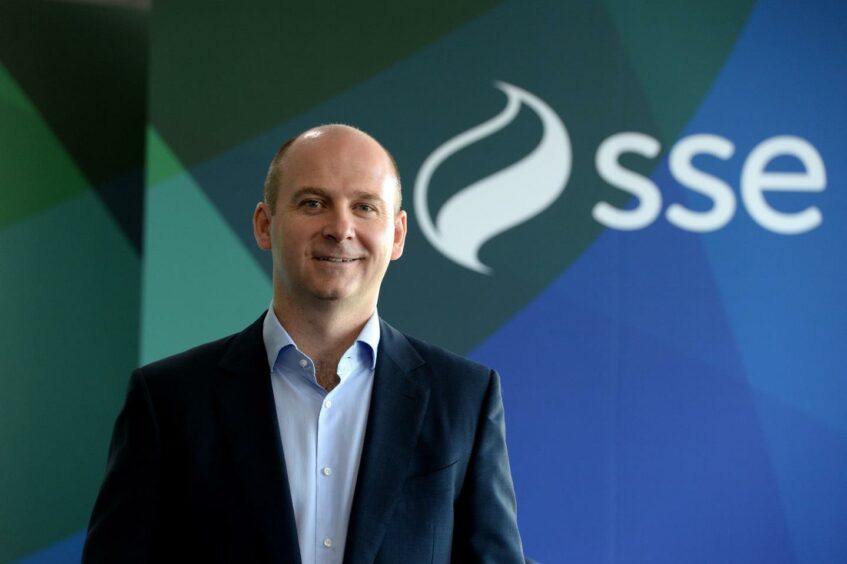 Stephen Wheeler, Managing Director of SSE Renewables, one of the big ScotWind winners, says the next generation of Scottish offshore wind will impact globally while transforming locally.
I don't think I've more keenly awaited the publication of a competitive bid process than Monday's publication by Crown Estate Scotland of the winning ScotWind bids. And the remarkable results, when they came, didn't disappoint.
The 17 lease option agreements awarded to bidders can deliver an eye-watering 25GW of clean, green electricity – enough to power tens of millions of British homes, and power the expanding electrification of the Scottish economy.
It's one of the most exciting moments in the story of renewable energy. Little wonder Scotland's First Minister Nicola Sturgeon hailed the ScotWind opportunity as truly historic, and that the results made headlines globally.
Because the world has been watching. Only a few weeks after Glasgow played host to COP26, Scotland has taken extraordinary strides forward to build on the legacy of that summit to greenlight a next generation of offshore wind that will be globally transformational.
For the first time, we'll see floating offshore wind farms developed to a commercial scale in Scottish waters where historically oil and gas rigs dominated. Scotland is setting a new bar in the delivery of the wind energy and renewables that will form the backbone of efforts to fight climate change, and our industry is responding with innovation and commitment.
For our part at SSE, we're delighted we've been successful in the ScotWind process. We're already building more offshore wind energy than any other company in the world. Now, with our partners Marubeni Corporation and Copenhagen Infrastructure Partners, we've won the right to develop what will become one of the world's first commercial scale floating offshore wind farms.
It's a fantastic win for us. Not only have we secured the rights to one of the largest ScotWind lease areas on offer – 858 square kilometers of seabed in the Firth of Forth – but we've also won our preferred site, which makes our success even more satisfying.
The site will be capable to delivering at least 2.6GW of new offshore wind, with first power expected before the end of the decade. When complete this new wind farm will generate enough offshore wind energy to power 4.3 million Scottish homes, offsetting around 5 million tonnes of harmful carbon emissions each year.
What's even more exciting is we'll do this utilising ground-breaking new floating offshore wind technology. With average water depths of 72m, our site is ideal for the use of game-changing floating offshore wind turbines – technology that is set to transform the global offshore wind sector by opening up huge market opportunities in deeper shorelines surrounding many countries such as Japan and the US. The positive impacts of what we pioneer locally here in Scotland will be felt globally as we turn today's floating vision into tomorrow's next generation reality.
Working together to deliver this project, our SSE Renewables-Marubeni-CIP partnership will be at the forefront of the floating transformation. We'll use our local experience of Scottish offshore delivery and global technology expertise to accelerate the deployment of floating wind energy to position Scotland as a world leader in floating offshore wind.
Our ScotWind site is also close to SSE's existing pipeline of in-construction and in-development projects, including Seagreen and Berwick Bank. This is important because it will allow us to maximise the capabilities of our existing and future Scottish supply chain partners throughout the value chain of our project pipeline, delivering transformative economic benefits locally here in Scotland.
Our ScotWind investment will create hundreds of skilled, green supply chain jobs in the UK and provide real opportunities for Scottish workers to make the transition from oil and gas to renewables. Our ambition is to spend around 50% of our investment in this project in the Scottish economy over its lifetime to build a world-class supply chain.
As we've recently demonstrated, at SSE we're willing to put our money our mouth is, and our announced investment of £15m in a new turbine tower factory to be built at Nigg will deliver green manufacturing jobs and opportunities from a thriving offshore wind industry. We're confident this ScotWind project will lead to billions of pounds' worth of additional direct and indirect investment into the Scottish economy over its lifetime.
SSE's enviable 8GW-plus pipeline of Scottish offshore projects, including Seagreen, Berwick Bank and now this superb ScotWind project win, will all play a major role in delivering Scotland's offshore wind ambitions for 2030 and beyond. And as a national renewable energy champion and a world leader in offshore wind we intend to continue delivering in future Scottish leasing rounds.
Because ultimately there is a huge amount that needs to be done to get to the Scottish Government's net zero target of 2045. That's why we intend to build on the scale and diversity of our offshore project pipeline. We will provide a pathway to deliver on COP26's promise to build a cleaner and greener net-zero world while we transform the way we generate renewable energy using both fixed and floating turbine technology.
We can win the fight against climate change. And we can do so while creating a powerful, transformative industry where the benefits of offshore wind energy are felt across the Scottish economy, bringing much needed skilled jobs to Scotland, and achieving a Just Transition from fossil fuels to renewables.
That is exciting and historic – and we can make it happen.
Recommended for you

BP advertises collaboration openings on Scottish offshore wind farm