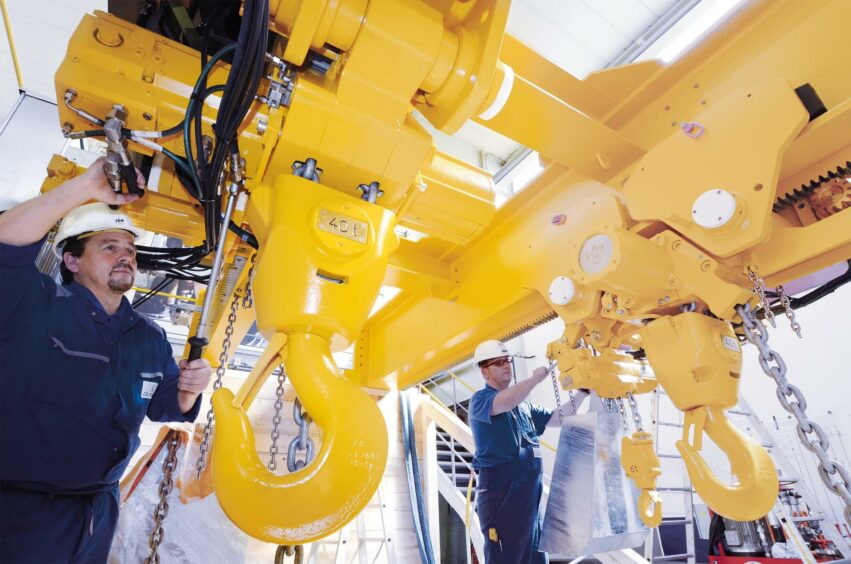 After five years in the job, managing director of JD Neuhaus UK Steve Walker shares an update on the company's longstanding approach that's still winning customers today.
The JD Neuhaus (JDN) group is a global leader in hoist and crane technology, setting the quality standard for the market for 277 years – and counting.
Steve Walker took over his role as managing director for JDN UK in 2017. Speaking to Energy Voice at the time he was sure that the core values and the vison JDN hold as a Group would be the key to success in the future. The years since have been challenging in the Oil & Gas market, like they have for most companies, but the results have proved this belief was correct.
"I have been with JD Neuhaus since 2013, initially as the UK business development manager and then I was promoted to the role of managing director in 2017," says Steve.
"During that five year period, which has included Brexit and Covid, JDN has achieved sustained growth and developed our sales and service capabilities."
As a Lifting Equipment OEM, the JDN Group manages its own manufacturing, sales and after-sales in house. JDN UK has a responsibility for the UK, Ireland and Middle East markets, servicing the domestic market with a UK-based team of engineers and support staff. Steve says: "These last few years have been unique. But if you consider everything that the JDN Group has been through during its long, successful history of 277 years (and counting), it demonstrates the resolve of the company to evolve and react to the times we live in."
So what's the secret to its long-lasting success? Working in a variety of sectors, including the likes of oil and gas and, most recently, defence, JDN knows how to keep its clients happy. Steve added: "A huge proportion of our business is repeat business."
Steve insists that JDN's values of holistic engagement with clients is vital. He said: "When we engage with a company, we like to be involved from the minute a person thinks they may need a hoist, then through the design discussion and the engineering drawings, right through to hopefully selling, delivering, servicing and providing parts to the unit. Then at the end, even the disposal of the unit."
This approach is coupled with JDN's top level German engineering, with all of its products manufactured in a state-of-the-art facility in Witten.

Steve said: "The 277 years we've been here has made us a very stable company. Our mantra is do everything slightly better than it's needed. The German engineering and production facilities stand us apart. And the partners we choose to work with."
JDN UK has recently added a new Distribution Sales Channel Manager, Andy Sutherland, to look after distribution sales.
Steve added: "JDN manage our service support through two models, fully trained JDN Engineers at JDN Facilities or Approved Service Partners. In the Middle East we have a very strong partnership with Sparrows Group who are the only JDN Approved Service Partner in the region, and for the UK  and Ireland we have our own engineers based in out Aberdeen facility.
"Engineers who have been fully trained on JDN Products, working out of our high quality workshop here in Dyce, Aberdeen, with direct support from our Head Office in Germany, is something that no other company in the UK  can offer for JDN products," Steve commented.
"Of course end users have the choice of where to send their kit for service and overhaul, they own it after all. But we tend to find that the ones who recognise the value of reduced life cycle costs, utilisation of OEM genuine parts and trained engineers working on that same kit, as well as OEM knowledge and certification, prefer to send the kit to us."
After five years as managing director of JDN UK, which has seen overall growth year-on-year, Steve ends with the same message from when he last spoke to Energy Voice: "The values we have as a company will see us through the next five years and beyond. Holistic engagement with clients and the ability to provide OEM Servicing stands us apart from other service providers."
Recommended for you

Decom Engineering appoints BG and Aker veteran as Aberdeen manager