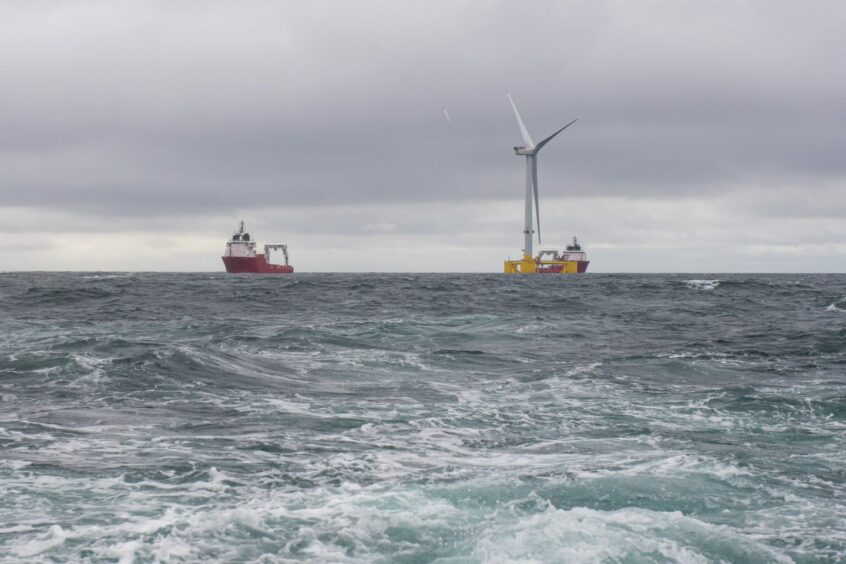 Scotland has ambitious targets for its energy production. With the aim of half of our energy to be supplied from renewable sources by 2030 and for the country's energy system to be decarbonised by 2050, this is going to need both bold and swift action. Core to the approach will be sourcing trusted partnerships which will ensure timely and effective delivery.
Partnership is something the teams at Flotation Energy and Vårgrønn understand. We recently announced our ambitious plans to generate offshore renewable energy that will enable the electrification and decarbonisation of offshore oil and gas installations in the North Sea, with any excess power made available to benefit UK consumers. Our strength lies in Vårgrønn's Norwegian offshore competence, offshore wind experience, financial expertise and strength, with Flotation Energy's established Scottish-based entrepreneurial drive and experience in developing the largest operational floating wind farm in the world in Kincardine.
The INTOG leasing round is an opportunity for Scotland to address a number of strategic challenges.
Firstly, it will enable the replacement of inefficient fossil offshore power generation with renewable electricity. This alone will make a significant contribution to Scotland's net zero target, and the North Sea Transition Deal goal to reduce offshore emissions by a minimum of 50% by 2030.
Secondly, it will enable the oil and gas industry to do its part to stimulate the growth of offshore wind. Offshore oil and gas platforms will purchase power from the new wind farms until the platforms reach the end of their life. This drives the business case for new wind farms, but also generates much-needed renewable electricity to the National Grid. INTOG wind farms are expected to outlast the oil and gas facilities by several decades, providing a long-term asset for Scotland.
Finally, the acceleration of offshore wind developments to meet the timetable of the North Sea Transition Deal will pull forward the deployment of floating offshore wind, stimulating the Scottish supply chain and lowering costs for future floating offshore wind projects as part of Scotwind.
We understand the challenge. Flotation Energy's founding team held key roles in the Beatrice electrification project, which to date is the only oil and gas asset in the North Sea to have been electrified with a combination of power from the UK grid and offshore wind. Colleagues in Vårgrønn have been closely involved in platform electrification in Norway, where it is now standard practice to present plans to avoid standalone offshore power generation.
Our first-mover status in this area places us in an excellent position to deliver. For example, our Green Volt project has already completed all of the offshore surveys required to obtain environmental consent. We have already obtained UK grid connection agreements to enable the timely electrification of oil and gas assets. This means we can meet the ambitious timescales required for the decarbonisation of oil and gas, as well as providing a landmark opportunity for Scotland to lead in the global deployment of floating offshore wind. When completed in 2027, our Green Volt project is expected to be the biggest floating offshore wind farm in the world.
However, for this to happen on schedule, finding delivery partners who can guarantee the speed of supply is essential.
We fully recognise that building floating offshore wind in Scotland is a major undertaking, but one that is necessary for a just transition. Scotland has a proud history as a nation with global offshore capability, one that we will be delighted to continue as we develop our plans for floating offshore
wind through INTOG. Flotation Energy is already working closely with the UK supply chain to develop the 100MW Whitecross offshore test and demonstrate project and will be delighted to expand this capacity as we look towards the INTOG supply chain in 2023.
Vårgrønn is backed by its shareholders Eni Plenitude and HitecVision which provide additional access to oil and gas operational experience across the North Sea, including an understanding of the important aspects of petroleum installations electrification. With such expertise, understanding and financial capability ensures that partners can be confident the future is in safe hands. By bringing billions of investments and thousands of jobs our partnership is repowering Scotland's future.