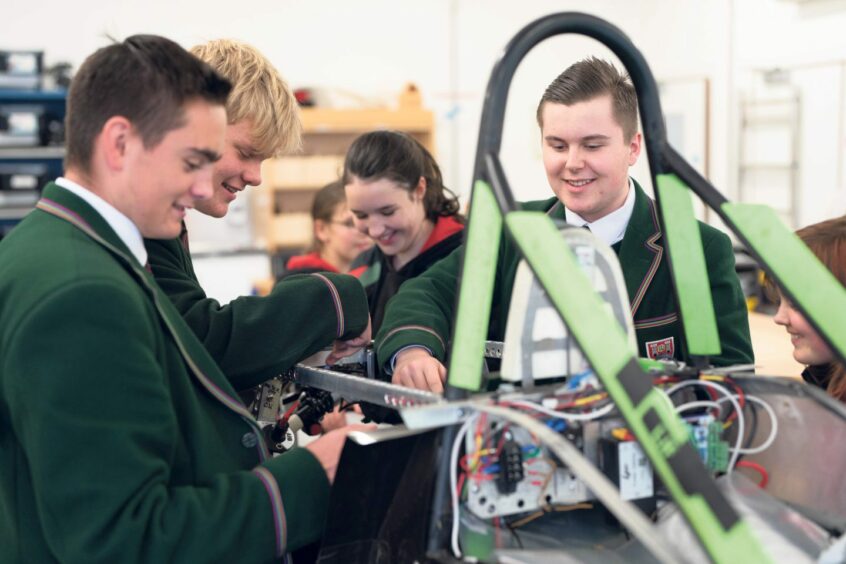 It is so important that your child begins their learning journey in the right environment.
Together, pupils at Albyn School, and the Total French School, feel safe and at home in small classes which are the perfect setting for inquisitive minds to flourish and for your child's potential to be unlocked.
Albyn's philosophy is centred on being stronger together, and the school's mission is to build academic excellence, engender community spirit and help develop pupils' social conscience.
At Albyn, pupils want to excel, and they develop high aspirations for the future. With more than half of S5 pupils achieving five A grades at Higher in 2022, pupils are given full support for whichever pathway they choose to follow once they leave Albyn. A high proportion of these pathways are in science and engineering.
Part of the school's vision is to offer the opportunity for pupils to seek fulfilment and enrichment both in and out of the classroom. With a large range of subjects on offer, pupils are able to learn in a purposeful and comfortable environment with dedicated teachers who have time for each and every pupil.
Beyond the classroom, pupils are encouraged to take part in an incredibly rich and wide co-curricular programme, where one day they may be flying high in the sky with the RAF section of the Combined Cadet Force and the next day they could be racing an electric car with the Formula 24 Club.
At Albyn School, there really is something for everyone.
As an all-through school, with nursery to S6 all on one site, there is a great bond between our older and younger pupils. They support and encourage one another, with older pupils often helping younger children with paired reading and other activities.
This makes for a really lovely experience for all ages and opens pupils' eyes to the importance of helping others.
Pupil voice is really important at Albyn, too, and pupils are encouraged to have their say on many different aspects of school life. This helps to create the best learning environment for each pupil.
The school's vision and values are lived every day and are shared widely and deeply by all who learn, teach and work within the Albyn School community.
Recommended for you

Albyn School is educating for life