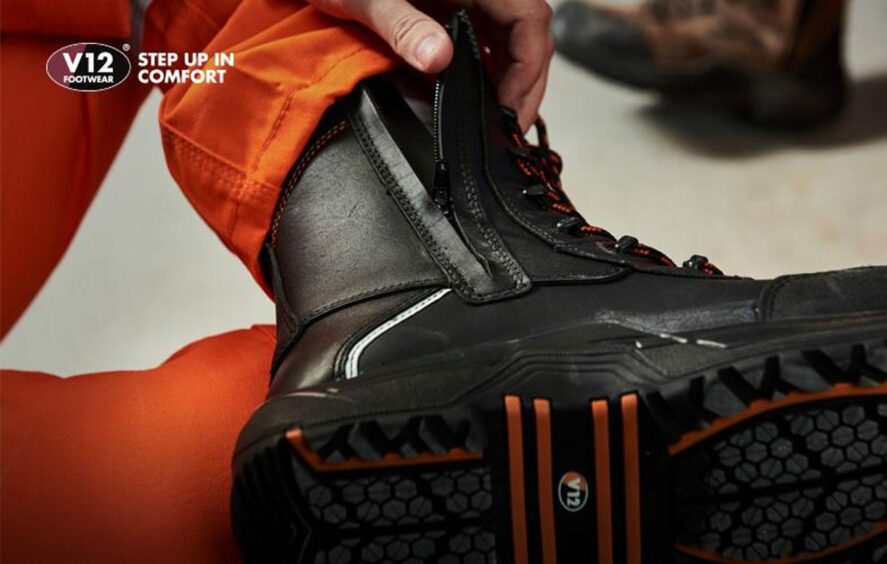 When working in the demanding conditions of the oil and gas sector, high-performing protection is a non-negotiable. If you're in charge of your team's health and safety, giving your workforce the best chance of staying safe is vital, and to achieve this it's often the small details that have the biggest impact, even down to the safety boots that are worn.
Worried about slips?
Did you know that a third of non-fatal accidents are caused by slips, trips and falls?
But there is a simple solution to reducing this figure: The right footwear for your environment. The surfaces faced in this industry are often the combination of wet and smooth; which means one thing – risk of slipping. The statistics around slipping at work are staggering, especially considering that the right footwear for your application is the solution to better safety at work.
Ensuring footwear has been tested to the environment you're working in is key. V12 Footwear have developed safety footwear specifically for the Energy industry, their E1300.01 Defiant IGS and VR620.01 Avenger IGS hi-leg boots. Through innovation and design, their tread cuts through liquid and their heels are angled perfectly to increase stability. Through above and beyond testing, these boots have even been certified to offer exceptional grip on Kennedy grating and scaffold board.
Comfort is key
Did you know that foot-related disorders are the most common work-related health problems in the UK, accounting for 8.9 million working days lost to sickness each year?
For those standing for hours at a time, comfort and support needs to be considered. A boot might offer standard protection, but if they cause discomfort, pain or wet feet, the wearer's health and on-the-job awareness is jeopardised. It could also result in people opting for more comfortable but non-compliant footwear.
A high-performing comfort insole like V12's Dynamic Arch cushions and supports the foot, reducing foot pain and promoting good joint alignment, which is essential for positive short and long-term foot health.
The value of durability
Did you know that if products are designed specifically for the environment you're working in, their life will be extended?
A safety product needs to perform long-term. V12's hi-leg footwear, developed with oil and gas industry experts, reflect the specific demands of the environment and are far more likely to stand up to the task – giving both wearer and company true value.
A boot with durability at the fore will undoubtedly last longer. This means they will be replaced less frequently, less material is sent to landfill, and it ensures that when you need to call on the safety features, even in older boots, you can depend on them to perform and protect. When you consider this chain of benefits, investing more initially means everyone benefits.
If you want to prioritise safety and comfort for your workforce, find out how V12 Footwear can support you in finding the right solution by contacting V12's Stuart Kyle on stuart.kyle@v12footwear.com or tel: +44(0) 1249 651 900.
Recommended for you

Decom liabilities: how do they work? and what's the bearing on North Sea M&A?