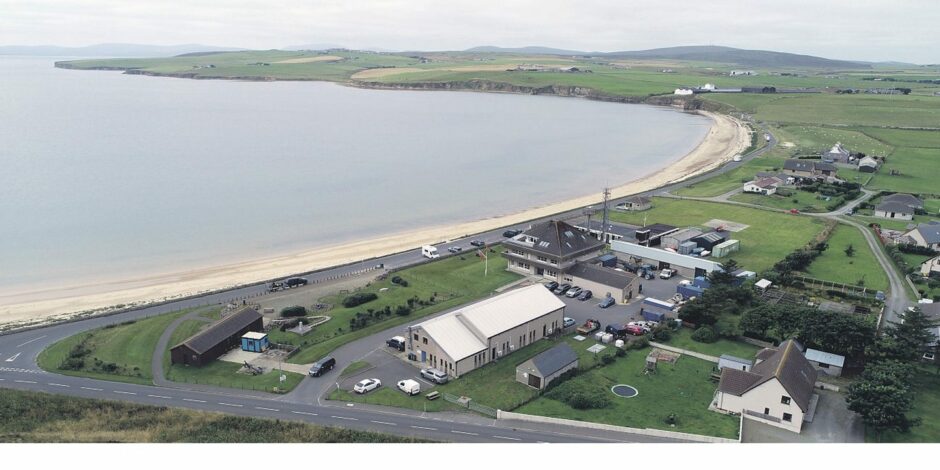 Orkney Harbours have a plan to play a leading role in the drive to net zero. They have an enviable position in the north of Scotland where the surrounding seas contain huge potential for wind, wave and tidal power.
On top of that there is the natural asset of Scapa Flow, with deep, sheltered water that is perfect for offshore wind storage.
A recent report by The Floating Offshore Wind Taskforce urged the government to transform up to 11 ports around the UK to enable the roll-out of floating offshore wind at scale.
The taskforce – which includes the UK and devolved governments, along with developers and renewable trade associations– called for £4 billion of investment, saying every £1 would generate up to £4.30 for the economy.
The government aims to install five gigawatts by 2030, but the taskforce forecast that up to 34GW could be installed by 2040.
It called on ministers to improve their ambitions and make the UK a global leader in the industry.
Orkney Harbours can be at the centre of this transformation. Its masterplan – launched in 2020 – showcases Orkney as a hub for the whole life cycle of wind farm development.
It would cover assembly, installation, marshalling, operations and maintenance through to decommissioning.
Success on this front would bring a raft of benefits. It would accelerate Scotland's drive to net zero while also handing an economic boost to the local community. But swift action is needed from government to enable it.
What is needed for Orkney Harbour's drive to net zero?
Orkney's offshore wind offering, for both fixed and floating, is incredibly strong due to its natural capabilities.
The announcement of ScotWind by Crown Estate Scotland has further strengthened its case.
But those developing floating wind opportunities need to book port infrastructure well in advance of the start of wind farm installation.
At present, Orkney Harbour management are doing an environmental impact assessment to assist a planning application for new quays and extensions.
They are looking at the financial strategy but need certainty over future investment.
Paul Olvhoj, business development manager at Orkney Harbours, says: "We need to see something coming in from the industry and government to say, 'Let's start moving
on to that next stage'. It's getting critical.
"It's all very well announcing 25GW of offshore wind but where's the infrastructure to do that and ensure that local supply chain content targets are met?
"The actual has to meet the ambition. If you're not going to get to that then the gap widens and a big port in Europe comes in and says, 'We can do all of that'.
"Then your local supply chain content is gone. What's the benefit to Scotland and the UK?"
What is central to the success of the project is a reliable business stream that will help to attract private investment.
Paul adds: "We need to see a contractual business stream coming into take the risk of going for private investment.
"If industry wants to do it then it's got to start putting agreements in place with locations and ports to be able to support them.
"Then private investment doesn't have that risk because you know you've got the payback.
"Whatever way you're borrowing the money, it's always the same thing. They'll say, 'That's fine – where's the income coming from?'
"I need to show contracts for people to say, 'OK, there's going to be so many million a year revenue'.
"There has to be swift action from government if they've got a set target of 5GW by 2030 and 34GW by 2040. Action needs to back up these figures and words."
Where could Orkney Harbours be in the future? Given the right investment and funding the future is extremely bright for Orkney Harbours.
By 2028, they plan to have a purpose-built facility working as a central point for sites surrounding Scapa Flow.
It will be a natural asset that is running for the start of the ScotWind market. Ten
years from now they hope that will help bring success to the islands as a whole.
Paul says: "We want to build on the installation phase to develop everything else that comes around it. We can make a socio-economic impact on the Orkney Islands and
the region as well. There will be a wide range of high-quality jobs for the
youngsters so that they stay here.
"They'll know as they go through the schools there's a variety of jobs for them to come out to. Then you've got that pathway to success for Orkney to continue to grow."
The potential for success is there. Now is the time to act on it.
■ Find out more about Orkney Harbours at orkneyharbours.com
Recommended for you

'We need more projects like Rosebank': Industry reacts to oil field approval