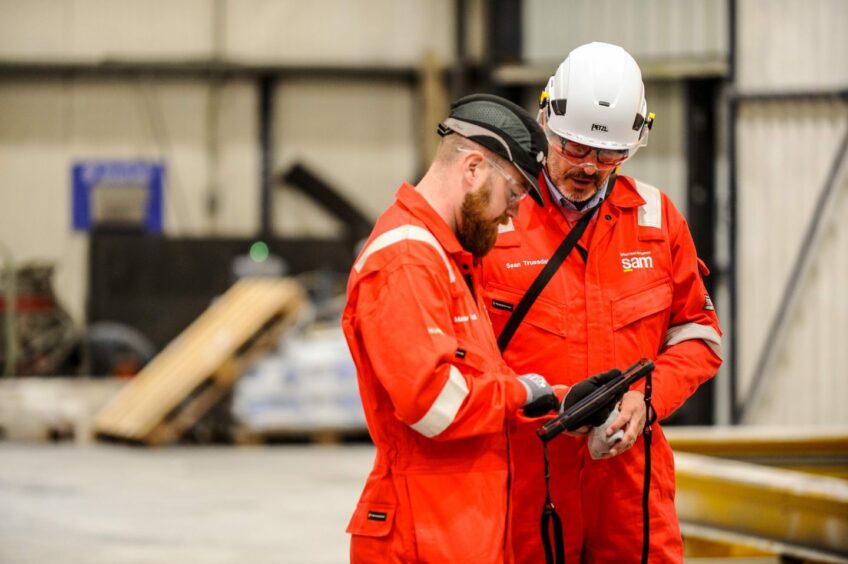 Picture this – the ability to predict coating degradation based on corrosivity ranking, as well as presenting any asset owner with the capability to accurately forecast, plan, execute and record future fabric maintenance campaigns.
A team of specialists at Surface Corrosion Consultants Ltd (Surface), one of the largest coating inspection companies in Europe, is doing exactly that by successfully turning the tide on traditional corrosion and inspection management.
From its headquarters in Belfast and an Aberdeen base, Surface specialises in comprehensive paint inspection, NDT inspection and corrosion prevention for a range of cross-sector industries including Energy, Subsea, Renewables, Marine, and Transport & Infrastructure.
At the forefront of its suite of innovative products and services is the cutting-edge web and tablet-based app Surface Asset Management™ (SAM™) which is transforming how coating condition surveys and painting campaigns are recorded and managed, with uptake so far proving the voracious appetite which exists for the leading-edge technology.
Designed BY corrosion specialists FOR corrosion specialists
The pioneering technology was developed in 2017 after the Surface team realised most service providers and major operators were still managing their corrosion protection using sub-contractors and colossal spreadsheets.
"As corrosion experts ourselves, we take immense pride in developing a technology that works FOR corrosion specialists," said Sean Truesdale, Surface CEO and founder.
For the past six years, SAM™️ has established a firm track record of positive disruption in how coating condition surveys and painting campaigns are recorded and managed, with uptake so far proving the importance of innovating and pushing to remain at the forefront of technological advances.
What does the future of Fabric Maintenance look like using SAM™?
Surface has introduced new features and build capabilities including the latest development of an industry-first breakthrough – the Degradation Forecasting Module (DFM).
"Our bespoke Degradation Forecasting Module allows us to accurately predict the deterioration of any coating system on any asset," explained Sean. "It allows for effective budget planning as it can accurately predict the condition of assets years into the future – there is simply nothing else like it."
The in-house team of specialists at Surface Corrosion offer clients a comprehensive training package as well as providing technical support and updates 24 hours a day, 7 days a week.
To find out more about SAM visit www.consultsurface.com
Recommended for you

Surface Corrosion Consultants are looking into the future