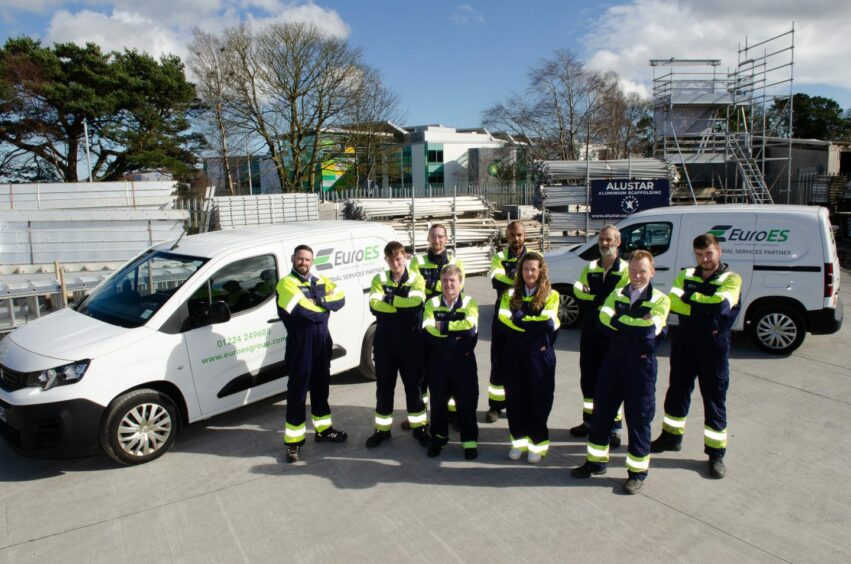 A leading independent access, inspection, and maintenance company has announced that its access division has won work worth £1.5 million in the past year.
Euro Energy Services has achieved the work across a variety of projects where scopes have included a mix of traditional tube and fitting scaffolding, galvanised steel system scaffolding, aluminium system scaffolding, cradle systems and suspended modular decking systems.
Working as mixed discipline teams, these hybrid systems have been installed by fully qualified scaffolders and rope access technicians, bringing expertise from both disciplines together to create flexible and efficient solutions.
Across industry, access systems are key to project success and specifying, designing and installing the correct system or hybrid system can increase effectiveness and enhance cost efficiency across all disciplines, functions and ultimately the whole project.
Euro Energy Services prides itself on adopting a mix of approaches which can be used in a bespoke way to meet client requirements, offering more choice and a greater range of solutions.
CEO Darryl Anderson said: "This figure underlines the importance of our flexibility and determination to engineer a better solution for our clients which will ultimately benefit us all. Access is very much at the 'nuts-and-bolts' end of industry but its impact on cost can be significant.
"Taking the time through experience to design and implement the correct system is where efficiencies lie. We have the ability to take that one step further and increase the effectiveness of a team, for example by ring-fencing inspection scopes where a multi-disciplined team provides both the access and carries out the NDT and inspection requirements."
He added: "Our people have been key to achieving this level of business and our investment in cross training a small group of technicians to support this flexible, targeted style of working benefits our customers and ourselves in many ways."
To find out more, visit www.euroesgroup.com