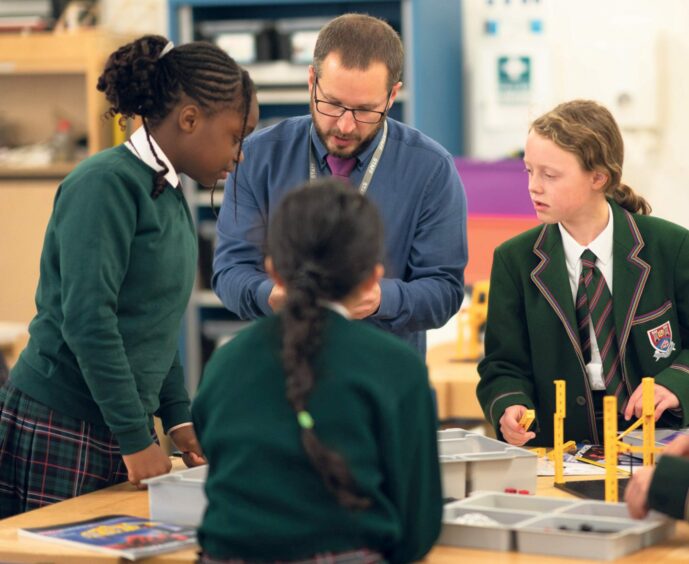 At Albyn School, our commitment to inclusion and diversity is ingrained in our ethos and practices.
We strive to create an environment that is equitable and inclusive, where everyone feels that they belong.
We actively seek to stamp out prejudice in our community through the content and delivery of our curriculum to build a more inclusive and educated society.
We intentionally represent historically marginalised groups in what we teach, and create moments and events where we highlight the diversity of both our community and society more generally.
This includes an International Food Fair, the creation of a rainbow staircase in our main entrance, celebrating Black History Month and LGBT+ History Month, and this year, we are also introducing a school iftar for our community during Ramadan.
We want to provide opportunities for all children who would benefit and thrive from the educational experience we offer. In order to do that, we also support a range of bursary awards for children who might not otherwise be able to attend the school.
Our bursary awards are available for pupils entering P6 and above, and they are awarded according to both academic ability and financial need.
At Albyn School, we are educating for life. Our progressive philosophy is centred on being stronger together with a focus on building academic excellence, growing community spirit and engendering social conscience.
"We want our pupils to be self-aware, ambitious and outward-looking so they can contribute to the world as global citizens. In order to achieve that, we seek to help them develop six key qualities: curiosity, resilience, confidence, endeavour, empathy and teamwork," shared headmaster Stefan Horsman.
To enhance our teaching facilities, the Wood Foundation Engineering Science Centre was established in 2016, catering to the growing interest in science, engineering and design.
Our aspiring musicians will soon benefit from our new soundproofed rehearsal rooms and a state-of-the-art recording studio. In addition, Albyn School also caters to sports enthusiasts.
Whether your child likes football, hockey, netball, golf, skiing or sport climbing, they will be encouraged and supported by our dedicated teachers.
We believe that the wide range of subjects available and the breadth of co-curricular activities on offer empower Albyn's children and young people to achieve their aspirations.
To explore all Albyn School has to offer, contact the admissions team on 01224 322408, email admissions@albynschool.co.uk or visit albynschool.co.uk
Recommended for you

Next generation of senior leaders to help 'make strides' in D&I