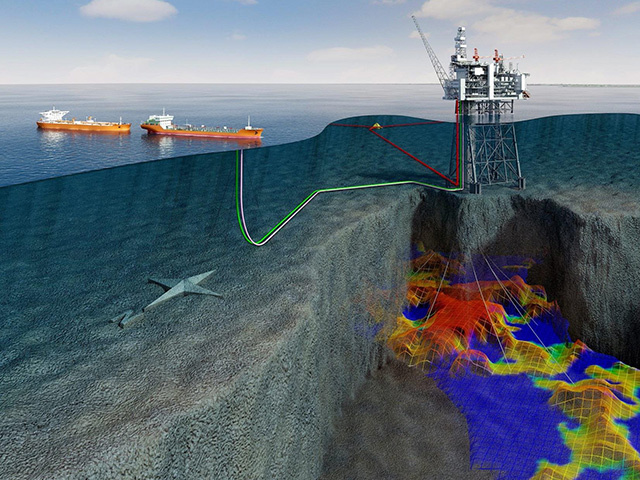 Statoil's Gunnar Breivik sounds confident as he makes the firm statement. But more than being confident, the managing director for Statoil Production UK is comfortable with the commitment.
And rightly so.
As the North Sea celebrates its 50th year, a fresh new generation of explorers has emerged eager to carry the torch for innovation. Statoil is at the forefront of the pack.
Statoil has historically dominated the E&P scene on the North Sea's Norwegian divide. But the Norwegian giant is now looking to balance its board.
Despite making a late entrance into the UK sector, the firm certainly made a memorable one.
The company burst onto the Aberdeen scene with the announcement of its £4billion Mariner development located south-east of Shetland.
"The UK North Sea has a strong history," Gunnar said.
"We are confident we have the expertise and knowledge to play an important role in its future."
The Mariner project is expected to support up to 700 jobs alone. However, it's not the only jewel in Statoil's UK crown.
Mariner's sister heavy oil project Bressay is just as critical, according to Gunnar.
The firm previously applied the brakes to the project, but Gunnar insists it's far from being permanently shelved. It's now about ensuring all of the right pieces fall into place, according to the company leader.
"We still believe in Bressay, however, it needs the right fiscal structure to be successful," he said.
"But regardless we are committed to further exploration in the North Sea. We were recently awarded 8000sq of acreage and won all 12 license we applied for in the UK North Sea. That's a demonstration of our commitment to the region."
The major industry player made out as one of the biggest winners in the 28th UK North Sea licensing round. Each of its licences are strategically located near both its Mariner and Bressay projects.
Echoing one of the firm's exploration managers, who previously said the firm was after a UK version of Johan Sverdrup, Gunnar added: "We have the expertise, the technical ability and a strong history of working in basins as mature as the UK's. We can apply what we've learned on the Norwegian divide to the challenges the UK's terrain poses."
And at the top of his listed learnings, Gunnar highlights that one of the most critical components to a basin's success is the strength of its exploration spirit.
"We plan to drill at least one exploration well this year with a further two in the pipeline for next year," he said.
He later added: "We are exploring, we are opening new offices, we are investing and we are creating jobs, so, yes, we will be here in 40 years' time."
Ultimately, it's a spirit like Statoil's which will see the North Sea successfully navigate a further 50 years.
Recommended for you

UK firm CeraPhi Energy launches funding round to raise £12.4 million