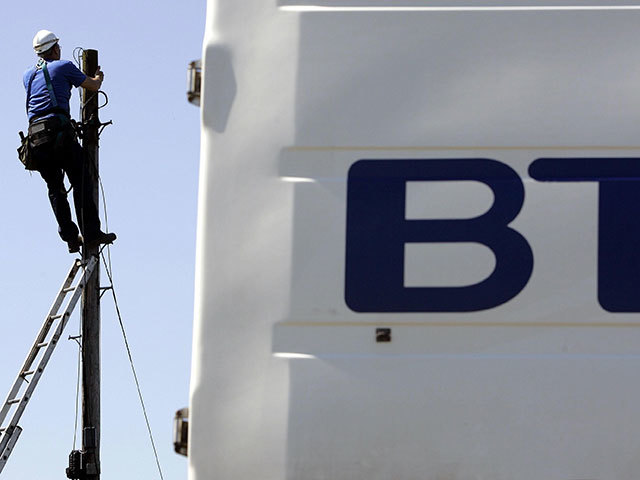 More young people should be encouraged to pursue apprenticeships as an attractive, viable career path, an industry leader has said. Fraser Rowberry, who heads up BT's local network business Openreach in Scotland, said any view of apprenticeships being considered a fallback option to university couldn't be further from the truth.
Fraser, who started his own career as an apprentice before working his way up to lead a 2,000-strong frontline engineering force across Scotland, said: "Apprenticeships are a fantastic way to start a career and more young people should be considering them.
"I started as an apprentice and loved every minute of it. It served me incredibly well.
"They are not a second-rate or fallback option. Instead, they provide an opportunity to learn a skill in an educational setting, see a very clear career path ahead of you and get paid at the same time."
BT is paving the way for young people to do just that.
Drawing on a strong 100-year history of employing apprentices, the firm has committed to adding 700 more young people to its ranks this year.
The posts, which include IT, engineering, software development and digital technology, are spread across the UK, with more than 90 positions in Scotland alone.
The drive, which coincides with the Press and Journal's own Apprentice 100 scheme, will see BT support an additional three posts in Aberdeen as part of the campaign to get young people into work.
The Scottish Government's Youth Employment Strategy highlights modern apprenticeships as a critical marker to the country's economic success, stating "now is the time to target modern apprenticeships more actively towards supporting economic growth".
BT believes that, as they develop their careers, apprentices have a long-term positive impact on the Scottish economy, bringing essential skills into the wider workforce and delivering innovation which in turn encourages investment.
Its apprentices work alongside experienced colleagues and learn how to gain the right skills for their chosen job. In addition, they attend college to work towards a nationally recognised professional qualification in their chosen career path.
Anyone over 16, living in the UK and not in full-time education, can apply for an apprenticeship. For its technical and engineering roles, BT recruits people who want to help keep customers connected and be at the heart of the innovation that is shaping the way we live and work.
Applicants don't necessarily need to have studied technical subjects in their school examinations, as the focus is on individuals who have a passion for technology and a strong commitment to pursing a technical career.
Fraser said BT would continue to lead the apprentice agenda.
"Pursuing an apprenticeship was one of the best career decisions I made," he said.
"BT offers young people the opportunity not only to learn a trade, but gain all of their necessary qualifications. The company ensures young people are being educated, supported and mentored. It's a classroom environment in a workplace setting – it's the best of both worlds. Earn and learn."
Around 50 of BT's young workforce will graduate from their apprenticeship this year. The company, which will have around 150 apprentices learning on the job across Scotland this year, boasts a 90% retention rate of apprentices after five years.
BT apprentices can study for various qualifications such as BTECs, Scottish Vocational Qualifications (SVQs), National Vocational Qualifications (NVQs), foundation and even honours degrees.
BT Scotland director Brendan Dick added: "BT is a major provider of quality jobs in Scotland and apprentices are our lifeblood. They reinvigorate our workforce and bring fresh ideas and energy.
"We recruit young people into different areas of the company, ranging from engineering and customer service to finance and vehicle maintenance.
"As well as learning and earning, they have access to excellent personal development opportunities, from volunteering to secondments and the chance to work on high-profile projects.
"Some of our most senior engineers started their careers as apprentices and are proof that an apprenticeship can take you almost anywhere, even offering the chance to gain a degree on the job.
"Our new recruits will help create and build Scotland's next generation of communications technologies as we make further advances in high-speed broadband, mobile, sport and digital television. The Openreach Modern Apprentices will be at the heart of building Britain's connected future.
"In the long term, the skills learned through a BT apprenticeship help to improve our capabilities as a nation – and that is crucial to attracting business investment and growing our economy."
For more information and to apply to be a BT Apprentice, go to: http://www.btplc.com/Careercentre
Recommended for you

Strict Scottish quarantine rules slammed by union chief