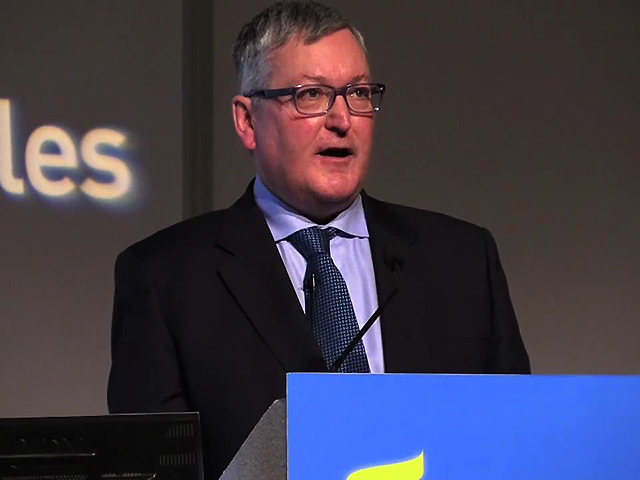 Orkney firm Scotrenewables Tidal Power (STP) has been awarded a £7.75million grant to advance the commercialisation of its floating tidal-energy technology, it was announced today.
The European Marine Energy Centre (Emec) at Stromness said STP's two-turbine SR2000-M2 prototype machine would be installed alongside an earlier device, the SR2000-M1, at its tidal test site at the Fall of Warness to form a four megawatt array.
STP's technology is at the heart of the Floating Tidal Energy Commercialisation (FloTEC) project, which aims to show the potential for floating tidal systems to provide low-cost, high-value energy to the European grid mix.
It brings together commercial, industrial and research organisations including Emec, DP Energy, Harland and Wolff Heavy Industries, ABB, EireComposites, Technology from Ideas, University College Cork and SKF.
The cash boost came through the European Commission's largest research and innovation programme, Horizon2020.
Energy Minister Fergus Ewing made the grant announcement in his keynote address at the International Conference on Ocean Energy in Edinburgh.
Mr Ewing said: "Scotrenewables has proven that collaboration is a vital component in overcoming the challenges facing successful tidal energy deployment – a view echoed by the members who have joined this impressive partnership.
"Scotrenewables has taken a significant step closer to demonstrating that extracting energy from our seas can be a commercially viable, cost-competitive option for producing clean, green energy."
STP business development manager James Murray said: "The ambition of FloTEC is to drive down the cost of tidal-energy.
"Engineering will commence in early 2016 and will include advanced power conversion hardware, low cost manufacturing technologies, load reduction mooring components and integrated energy storage."
Emec managing director Neil Kermode added: "We're extremely excited to see the next generation SR2000 take its place over the coming months."
Recommended for you

Marriage plans for wave energy and offshore wind in Scotland