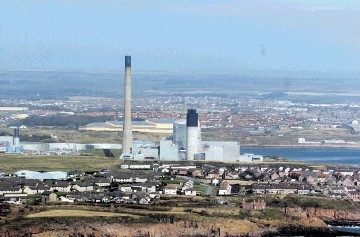 Scottish and Canadian scientists have strengthened links on climate protection through Carbon Capture and Storage research
The University of Edinburgh has signed a significant collaboration with the University of Regina in Saskatchewan, Canada, paving the way for strategic international research into Carbon Capture and Storage (CCS.
The technology that holds the potential to transform how global carbon emissions are reduced towards zero following the Paris climate talks (COP21).
A Memorandum of Understanding between the University of Edinburgh and the University of Regina, signed at an international academic summit hosted by SCCS in Scotland today will establish up to three C$10,000 MSc scholarships each year with funding support from the Canadian CCS pioneer, SaskPower.
In October 2014, the utility company's Boundary Dam project was the world's first large-scale CCS scheme on coal power to begin operating.
Successful students for this competitive award will be accepted as visiting graduate students at Regina after completing two semesters of the University of Edinburgh's MSc in CCS.
Research and development (R&D) budget on CCS is being increased and international collaboration is being actively encouraged.
The SCCS summit has been made possible due to funding from the UK Foreign and Commonwealth Office in Canada and the Carbon Sequestration Leadership Forum (CSLF) Capacity Building Fund.
Dr David Malloy, vice-president (research) at University of Regina, said: "Our research into CCS and our subsequent technologies are cutting edge.
"This agreement is an exciting step toward building international capacity in CCS, and we are thrilled to be able to share our knowledge with University of Edinburgh students as we welcome them to our hub in CCS.
"Working together we have the potential to provide real solutions to climate change around the world."
Alan Mackay, deputy vice principal international, the University of Edinburgh, said: "The collaboration between our two universities is an excellent example of how international collaboration can tackle an international problem, such as climate change.
"These student placements not only build links between the UK and Canada, but will also contribute to finding solutions to the urgent challenge of tackling increasing CO2 emissions worldwide."
Caroline Saunders, British Consul General Calgary-designate, the Foreign and Commonwealth Office, said: "The aspiration of the COP21 climate agreement to keep global warming below 1.5°C makes the potential role of CCS, and especially bioenergy with CCS, all the more important. We need to understand how CCS can best 'fit in' with the complex and dynamic energy system of the 21st century and that's a learning process."
Prof Stuart Haszeldine, Professor of Carbon Capture and Storage, the University of Edinburgh, and SCCS Director, said: "This is practical international partnership and innovation in action between nine nations to boost worldwide deployment of new technology against climate change."