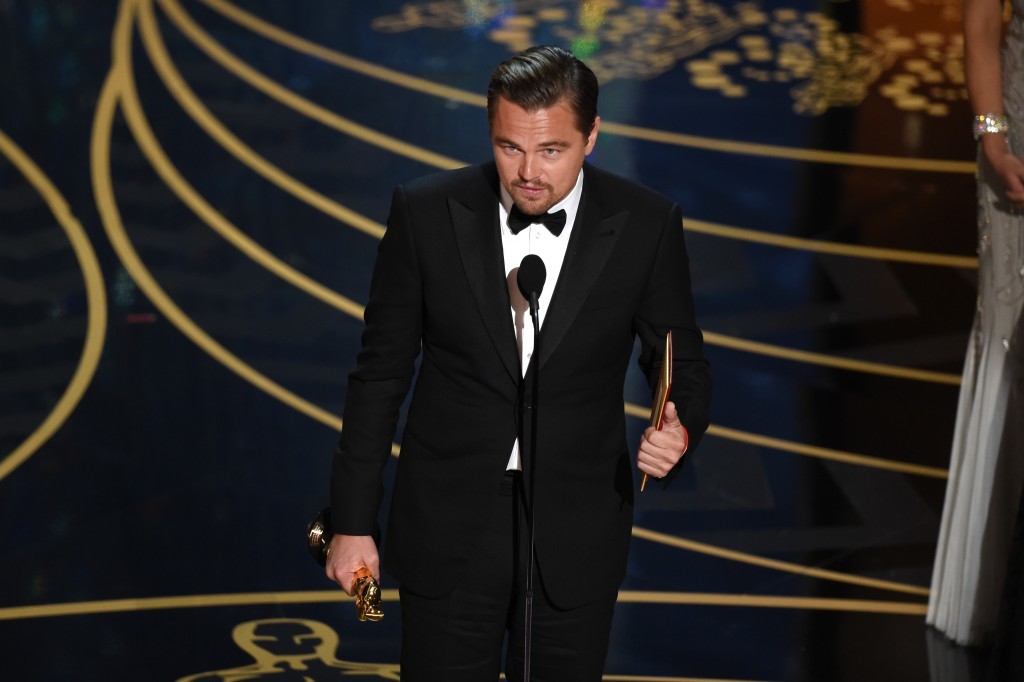 Hollywood star Leonardo DiCaprio has ended years of Oscars disappointment as he was finally named best actor.
He beat the likes of British star Eddie Redmayne, Bryan Cranston, Matt Damon and Michael Fassbender to take home the award for his role in The Revenant at the 88th Academy Awards.
The actor was first nominated for an Oscar 23 years ago in a supporting role, and has since been nominated four more times for acting, including this year, but had never won until now.
DiCaprio thanked the movie's director and his co-star Tom Hardy, saying "your fierce talent on screen can only be surpassed by your friendship off screen".
The 41-year-old used his last few minutes on stage to campaign for climate change, adding: "It is happening right now. It is the most urgent threat facing our species, and we need to work collectively together and stop procrastinating."
He urged the audience to "support leaders around the world who do not speak for the big polluters or the big corporations but who speak for all of humanity, for the indigenous people of the world, for the billions and billions of underprivileged people who'll be affected by this".
The star ended by saying: "Let us not take this planet for granted, I do not take this night for granted. Thank you so very much."
Another of the night's coveted gongs, best picture, was awarded to Spotlight, which tells the story of how the Boston Globe newspaper exposed abuse by Roman Catholic clergy.
Room star Brie Larson was named best actress in a leading role and ended her speech thanking "the fans, the moviegoers, thank you for going to the theatre and seeing our films, I appreciate it, thank you".
The Revenant's Alejandro G Inarritu was named best director for the second year in a row, and thanked DiCaprio for "giving your heart, your soul, your life".
The most awards of the night went to Mad Max: Fury Road, which managed to take home six Oscars in total, followed by The Revenant with three and Spotlight winning two.
British singer Sam Smith picked up the best original song Oscar and dedicated his award to the lesbian, gay, bisexual, and transgender (LGBT) community.
Smith co-wrote the song Writing's On The Wall with fellow Brit Jimmy Napes for the latest James Bond movie, Spectre. He follows in the footsteps of Adele, who won the Oscar in 2013 for the Bond instalment Skyfall.
An emotional Smith took to the stage with Napes and said: "I read an article a few months ago by Sir Ian McKellen and he said no openly gay man had ever won an oscar. I want to dedicate this to the LGBT community all around the world. I stand here tonight as a proud gay man and I hope we can all stand together as equals one day."
Another British star who scooped a surprise victory was Mark Rylance, who was named best supporting actor on a night dominated by the row over the lack of black nominees.
Rylance, who beat off competition from Sylvester Stallone, Mark Ruffalo and fellow Brits Christian Bale and Tom Hardy, won the gong for his role in Bridge Of Spies.
In his acceptance speech, he took a swipe at politicians, praising the leadership of the movie's director Steven Spielberg, who he said was "unlike some of the leaders we are being presented with".
Host Chris Rock did not shy away from the diversity issues plaguing this year's awards and opened the ceremony by declaring Hollywood is "racist" and admitting he considered boycotting the ceremony because of the absence of black nominees.
The comedian, who welcomed the audience in the Dolby Theatre to the "white People's Choice Awards", cracked a series of jokes about the race issue and added the controversy over police shootings of black suspects in the US to his targets.
He said: "Everyone wants to know is Hollywood racist? You have to go at it the right way. Is it burning-cross racist? Fetch-me-some-lemonade racist? No. It's a different kind of racist.
"Is Hollywood racist? You're damn right it's racist but it's sorority racist."
He added: "That's how Hollywood is but things are changing."
Rock ended the ceremony saying the night had been an "amazing experience" but threw in one last diversity dig as he quipped "black lives matter".
Alicia Vikander was the first big winner of the night, picking up the best supporting actress Oscar for her role in The Danish Girl.
Other notable British successes included Amy, the British-made film about the late Amy Winehouse, which won the Oscar for best documentary feature film.
The first British success went to Jenny Beavan, who won best costume design Oscar for Mad Max: Fury Road.
Beavan, who was famously described as a "bag lady" by Stephen Fry at the Baftas, said: "I want to say one quite serious thing, but it could be horribly prophetic, Mad Max, if we are not kinder to each other and if we don't stop polluting our atmosphere."
Asked backstage about her choice of Oscars outfit, Beavan said: "I am very happy to talk about it. I don't do frocks and absolutely don't do heels, I have a bad back.
"I look ridiculous in a beautiful gown. This was a homage to Mad Max and I obviously didn't get it quite right at the Baftas, the scarf was meant to be an oil rag."
Gesturing to her fake leather jacket, she added: "This is Marks & Spencer with Swarovski at the back. I had a bit of a shoe malfunction and the glitter fell off. I just like feeling comfortable and as far as I'm concerned I'm really dressed up."
Academy president Cheryl Boone Isaacs took to the stage to address the diversity issue and quoted Dr Martin Luther King.
She stressed that all members of the academy and "everyone in this room help deliver that message, each of you is an ambassador who can help influence others in the industry. It's not enough to just listen and agree, we must take action. While change is often difficult, it is necessary."
Alan Rickman, Christopher Lee and David Bowie were among the stars remembered in the 'In Memoriam' section.
Snippets from Rickman's famous role as Professor Snape in Harry Potter and Lee as Bond villain Francisco Scaramanga played as Foo Fighters frontman Dave Grohl performed an acoustic version of The Beatles' Blackbird.
Also among those lost in the last year were Leonard Nimoy, Omar Sharif and A Nightmare On Elm Street creator Wes Craven.
American vice president Joe Biden appeared on stage to introduce Lady Gaga ahead of her performance of her song Til It Happens To You, which she co-wrote with Diane Warren for the documentary The Hunting Ground.
The documentary is an in-depth look at rape on American university campuses.