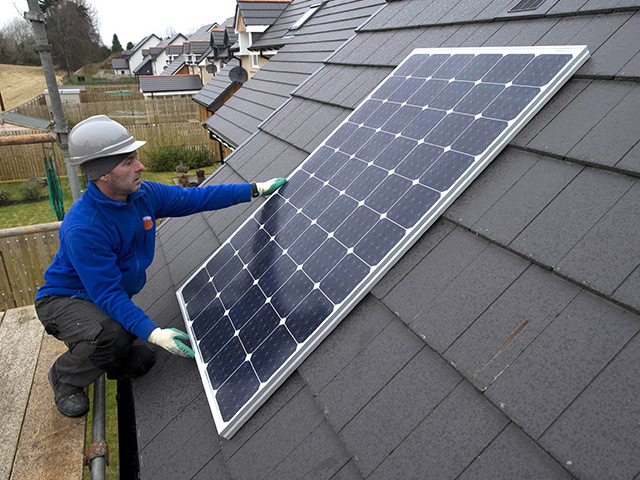 Eurosceptic Conservative MPs are backing Labour moves to block an increase to taxes on solar panels and other energy saving measures.
A dozen Tory MPs supporting Brexit, including Bernard Jenkin, Peter Lilley, Nigel Evans, Graham Brady and Jacob Rees-Mogg, have signed up to a Labour amendment which would stop a VAT hike on solar and energy saving measures from 5% to 20%.
The Government is raising VAT charged on the clean energy measures, after the European Court of Justice ruled the UK's lower rates were illegal under European Union law.
Eurosceptics in the Conservative Party are seizing on the issue by backing the amendment to the Finance Bill. As well as those who have supported the amendment, other Tories are expected to oppose the EU-ordered VAT hike.
In his blog John Redwood said: "I for one will be opposing this measure, as I do not wish to see energy conservation taxed in this way and object strongly to the erosion of our taxation powers by the European Court."
Labour claims the tax rise could add £1,000 to the cost of a household solar system and put thousands of jobs at risk in an industry already hit by huge cuts to subsidies, and comes as the European Commission has indicated it is prepared to be more flexible on VAT.
Shadow energy and climate change secretary Lisa Nandy said: "Coming on top of savage cuts to other energy investment schemes, this solar tax will destroy thousands of jobs and make the power crunch worse.
"Reversing it is well within the Chancellor's power. He must act to protect this important British industry," she urged.
The Solar Trade Association's Leonie Greene said: "In our view the Treasury is not required to single out solar power for punitive treatment under VAT – that would be truly bizarre given fossil fuels attract low VAT – and we urged the Chancellor to stand up to the European Commission whatever.
"It is clearly a nonsense to sting families financially if they want to do the right thing on climate change.
"Solar is the nation's favourite energy technology, so it's heartening to see MPs from all parties mobilising in Parliament to try to see off any silly moves on tax that would make solar more expensive and less accessible."
Asked whether the Government would be seeking concessions from the EU on VAT on solar panels, the Prime Minister's official spokeswoman said: "The European Commissionis due to come forward with some proposals on VAT, looking at how it operates across the European Union and across the Single Market and we will be engaging with them on that.
"With regard to solar panels, we have been having a consultation on VAT rates on energy saving materials and we are in the process of reviewing the responses to that consultation."
Recommended for you

North Sea windfall tax plans voted down in Commons