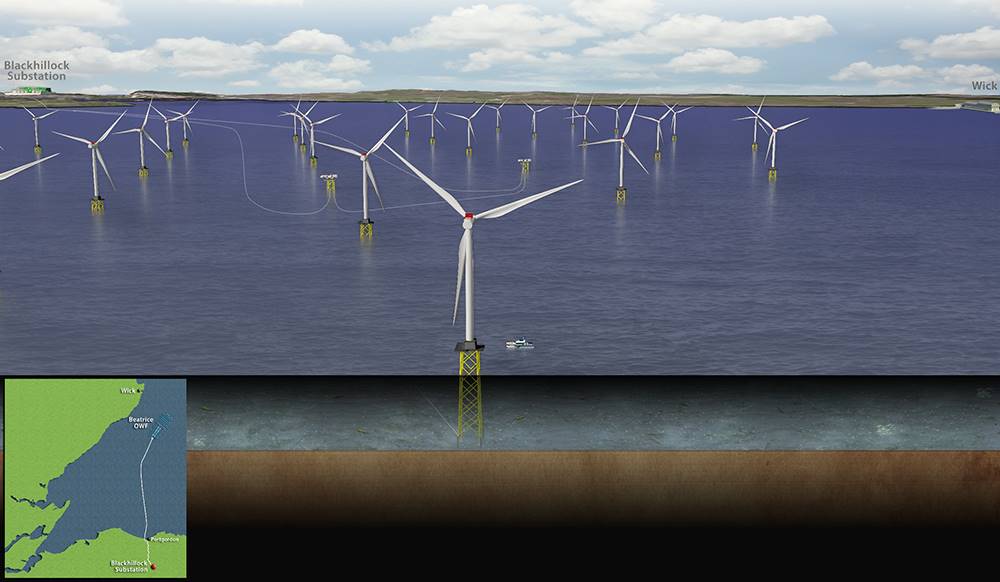 Construction on a £2.6billion windfarm in the Moray Firth will start next year.
The 84-turbine Beatrice offshore project, off the coast of Caithness, will create up to 900 jobs and deliver a multimillion pound boost to the region.
Work will get under way next year, although £10million of improvements at the development's main base at Wick Harbour will begin within months.
Last night the development – which will be fully operational by 2019 – was hailed as a "flagship project for the Scottish offshore wind industry".
And SCDI's Highlands and Islands director Fraser Grieve said: "This decision will bring a positive economic boost to the region creating hundreds of jobs during its construction, with some 90 long -term jobs created in Wick."
Confirmation that the Beatrice offshore windfarm will go ahead was last night welcomed by politicians on both sides of the Moray Firth.
Moray MP Angus Robertson said: "The news that the first major offshore project in the Moray Firth has passed the final hurdle and has the final green light is great for the economies of Moray, the wider north-east of Scotland and the Highlands.
"Moray is well placed to see some of the economic benefits of this multi-billion renewables projects which will support skilled jobs and more work for downstream suppliers.
"With further multi-billion projects in the pipeline for the Moray Firth the future for our harbours and for skills transfer from the oil and gas sector, which generates spend in our local economy, is very positive."
Paul Monaghan, MP for Caithness, Sutherland and Easter Ross, also backed the announcement, which includes £10million worth of improvements at Wick harbour.
He said: "The wind farm is expected to provide an average gross annual employment of over 890 jobs during construction of which 65 jobs will be focused on construction of the facilities in Wick, with a further 90 long-term jobs expected during the windfarm's operational phase.
"Wick in Caithness and Invergordon in Ross-Shire are ideally placed to benefit from this massive investment."
Gail Ross, MSP for Caithness, Sutherland and Ross, added that Wick has not seen investment on this scale since the herring boom of the early 1800s.
She said: "This scheme shows that this part of the Scotland has so much to offer in terms of clean, green and sustainable energy. I am sure that there will be opportunities a plenty for firms across the North to benefit from it. whether that be during the construction phase or after it."
"In short this development in the outer Moray Firth is a win-win situation for the entire area," she added.
C
The Beatrice announcement was not universally welcomed, with anti-windfarm campaigners raising concerns about the impact on marine life and tourism.
Industry watcher Lyndsey Ward criticised its long-term impact as a "huge unknown".
She said: "We have had years witnessing the destruction of our precious landscapes by industrial turbines and now developers are turning their attentions to our seas.
"Impacts on marine life, local fishing communities, our tourism industry and seabirds from offshore wind are still a huge unknown.
"The jury is still out on whether wind power in any form is clean or green or worth the devastation to the environment that comes with its deployment.
"The pile driving into the seabed of turbine foundations is known to cause seismic waves that can kill fish and damage mammals' sonar.
"The violent vibrations can travel many miles through the water and bedrock.
"Whales use sonar to navigate, detect prey and communicate. Without it they are lost and can end up trapped in dangerously shallow waters.
"We can only hope the whales and dolphins this area is famous for are not so adversely impacted that they end up beaching themselves along Scotland's coastline and, if they do, will anyone ever be held accountable or admit they got it wrong?"
Caithness-based campaigner Brenda Herrick echoed the concerns about the impact on wildlife and also raised concerns about the impact on tourism, with the windfarm visible from the Caithness coast.