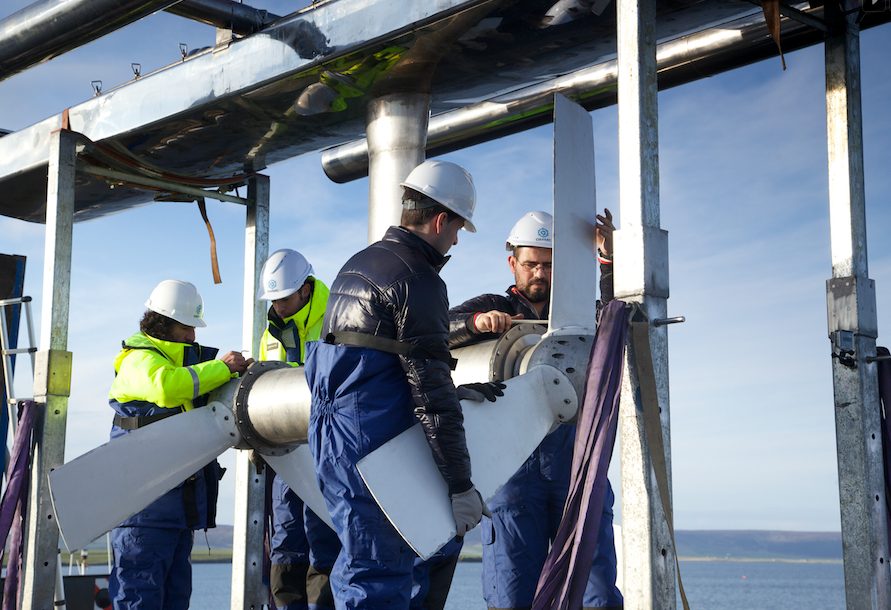 An Orkney-based wave and tidal energy technology tester has hailed the award of a £3.1million grant from the European Commission.
The funding has been awarded through the so-called Fast Track to Innovation scheme and will be split between two projects at the European Marine Energy Centre (Emec) in Stromness.
Dutch renewable energy generator Tocardo will test one of its systems in real sea conditions at Emec, while Spanish turbine company Magallanes will put its tidal energy platform through its paces.
Emec said the type of technology being demonstrated showed the sector was moving in a new direction.The first generation of technologies trailed at the facility following its establishment in 2003 were mounted on the seabed, but Tocardo and Magallanes are focusing on floating equipment, which is cheaper to install, maintain and run.
Leask Marine, a Kirkwall-based diving service and subsea construction firm, will contribute to both projects.
Emec commercial director Oliver Wragg said the grant could boost the entire wave and energy sector by encouraging private investors to provide backing, something it has struggled to do in the past.
Edinburgh-based wave power companies Aquamarine Power and Pelamis folded in the last two years after failing to drum up enough funding.
Mr Wragg said: "I'm delighted that the EU is supporting full-scale testing and demonstration to help progress towards a commercially-viable industry.
"It's hard to secure private investment for real sea testing of ocean energy technologies so grant support is vital at this stage of development."
Mr Wragg also said securing the cash was a great achievement given the level of competition: "This funding was open to all sectors of industry across Europe, so the fact that wave and tidal energy has been able to stand on its own two feet and create a sound business case is testimony to how the sector is doing."
"The UK and Scottish Governments have supported the sector through the creation of Emec and grant funding in years gone by.
"Now the European Commission is realising the benefits that wave and tidal energy can bring and seeing how investment at Emec can reduce costs and bring products to market."
He said the outcome of this month's European Union referendum would not jeopardise projects in the near term, because the money comes from an initiative with a budget guaranteed through to 2020.
This week also saw Emec welcome the arrival of the world's biggest and most powerful tidal turbine in Orkney ahead of testing at the centre.
Scotrenewables' SR2000 arrived in Kirkwall from Harland and Wolff Heavy Industries in Belfast and will be hooked to Emec's Fall of Warness grid-connected test site later in the year.
Recommended for you

Nine Scottish projects receive £3.6m in Energy Entrepreneurs funding