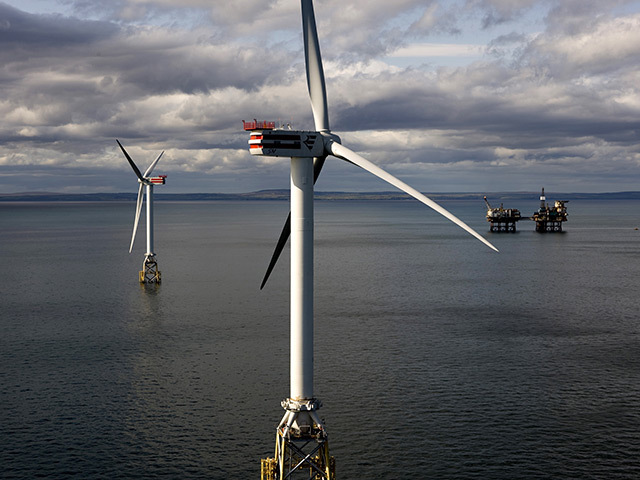 Global Energy Group (GEG) is tipped to play a major role in the construction of SSE's £2.6billion Beatrice windfarm.
It is understood that, besides fabricating steel piles to secure to the sea floor the many structures on which huge towers will be bolted, Global's Cromarty Firth base will be used as the reception and assembly centre, plus load-out point for the 84 seven-megawatt (MW) turbines.
The value of the capital work awarded and the implications for jobs are unclear, however, the Moray Firth windfarm seems certain to both generate and secure for a time at least, jobs at what was the former Hi-Fab offshore platform building yard.
Offshore construction and installation work is scheduled for next year.
Details of the contract wins are expected to be revealed this morning at the yard by SSE, together with Scotland's still new energy minister, Paul Wheelhouse. and Global chairman Roy MacGregor.
The facility is geographically placed perfectly and well-equipped as a subsea fabrication and related logistics centre for the UK North Sea.
It was used by Talisman Energy in 2007 to assemble and load-out two 5MW demonstrator turbines for the Beatrice oil field.
Nigg is well provided for with large fabrication halls, extensive deepwater berthage for multiple construction and service vessels and huge laydown areas for turbine towers, transition pieces, nacelles, blades etc.
The yard has been subject to considerable and ongoing investment since the MacGregor family acquired it in late 2011.
It is possible that Global's integrated Nigg facility could become for Scotland what Esjberg is for Denmark as the latter port is now a major centre for offshore wind construction, logistics and long-term support, with ample space for storage and assembly of offshore turbine modules and plenty of berths for ships.
SSE announced late last month that the final investment decision had been made and the 588MW Beatrice project was going ahead.
The company said the project was expected to deliver "around £680million into the UK and Scottish economy via employment and supply chain opportunities during the construction phase and circa £400million-£525million during the wind farm's 25-year operational life."
Beatrice partners comprise: SSE (40%), Copenhagen Infrastructure Partners, or CIP (35%) and Chinese investor SDIC Power (25%).
Recommended for you

Shell set to explore Philippines offshore wind potential