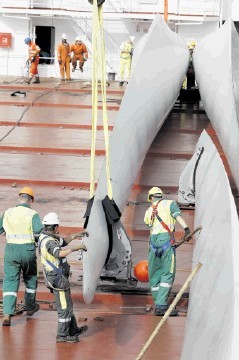 A leading steel firm has bought a plant to make wind towers and large-scale tubular steel fabrication.
Liberty House said the move takes forward its plans to build a fully-integrated steel and engineering business across the UK.
The equipment will form the heart of a new manufacturing centre which will eventually supply the growing offshore wind market and turbine casings for tidal lagoon power.
The company will recruit a workforce of more than 100 for the new enterprise, including engineers, welders, fabricators, assemblers, blasters and painters, with further jobs expected.
WWF Scotland director Lang Banks said: "Following this week's announcement of over 100 new jobs at Nigg on the Cromarty Firth to support the construction of an offshore wind farm, it's great to hear of the potential for even more jobs linked to renewables.
"This news underscores the type of jobs benefits that will come as the UK transitions to a zero-carbon economy.
"However, to ensure we reap the maximum benefits of becoming a zero-carbon nation, Government must put in place the necessary policies to fully support this important transition."
Liberty's newly-acquired steel plants at Dalzell and Clydebridge in Scotland will make the heavy-duty steel plate required for the towers.
The mothballed Scottish plate mills began recruitment last week with a view to re-starting production in September.
Liberty bought the steel tower production equipment which was closed down in September 2015 by Mabey Bridge Renewables at Chepstow, South Wales.
The company will announce the location of its new manufacturing centre within the next few weeks.
The group's executive chairman, Sanjeev Gupta, said: "We are very excited about this new opportunity. It is an excellent example of how we are integrating our steel production and manufacturing supply chain to create a robust industrial eco-system.
"It is particularly appropriate that this new business will supply the renewable energy market in view of our own Greensteel strategy, which involves investing in green energy as the basis of a competitive UK steel and engineering industry."
Liberty is one of a number of firms interested in buying Tata Steel's UK business.
The Indian conglomerate is still assessing bids.