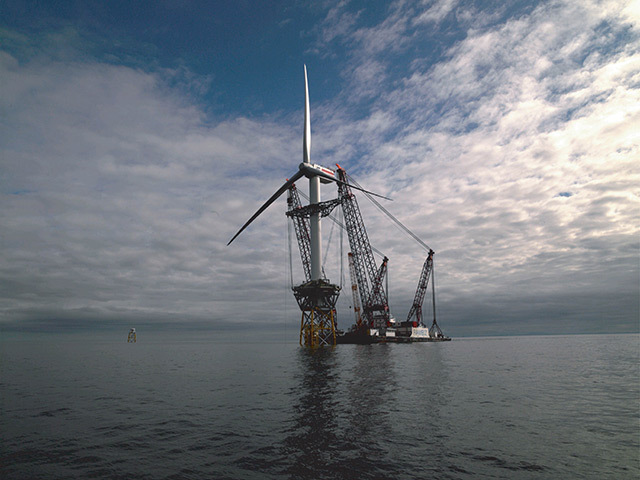 A boost for jobs at a fabrication yard on Lewis was welcomed as "excellent news" after its owner won a £100million contract.
Burntisland Fabrications (Bifab) was the most recent Scottish firm to benefit from SSE's decision to press ahead with the £2.6billion Beatrice offshore wind development.
It is thought the work will be spread across Bifab sites in Arnish on Lewis and at Burntisland and Methil in Fife, protecting 200 jobs at the firm.
Alasdair Allan, Na h-Eileanan an Iar SNP MSP, said the deal was "excellent news for the workforce at Arnish, after a period of uncertainty for the workforce locally".
It is thought the workforce on the Arnish site has dwindled to less than 20. Last year unions warned the facility was at risk of being mothballed after it was hit by a slump in contracts due to the oil price collapse. There were around 100 workers at the site at the start of 2014.
The Arnish yard is owned by the Stornoway Trust and leased to Highlands and Island Enterprise (HIE), which rents the facility to Bifab.
Mr Allan said he was seeking further information from the manufacturer about how the deal would affect jobs.
He said: "This is a testimony to the skill and dedication of the workforce at Arnish. As Scotland builds up its capacity in renewable sources of energy, there will be a need for more work of this kind, and I think it is particularly exciting that we will now see the islands play their part in this.
"I will be writing to the company to establish more detail on the number of jobs which are likely to be created at Arnish. This is undoubtedly a very positive step forward for the yard and I hope further work of this type can be secured in the years to come."
Bifab was unavailable for comment.
Earlier this week Global Energy Group revealed it had signed a deal confirming its role in the construction of the wind farm in the outer Moray Firth.
Global's base at Nigg yard on the Cromarty Firth will be used as a reception and assembly centre and load-out point for the 84 7MW turbines, with work expected to start in spring 2018.
Bifab will supply 26 wind turbine foundations for the SSE-led 588MW wind farm.
The order for BiFab requires 22,500 tonnes of steel and gives the company work through to April 2018.
Ten of the turbine substructures are to be ready for August 2017, with the remaining 16 to be completed the following April.
The foundations, called jackets in the industry, built at Arnish will be shipped to Methil for final assembly and loadout.