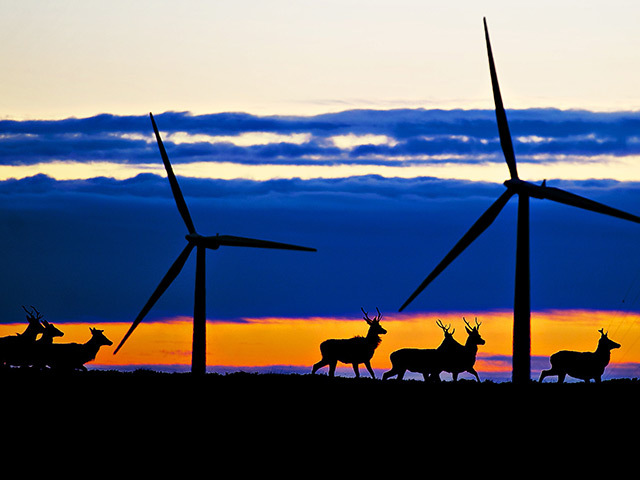 MPs have called on the UK Government to clarify future support for the renewables industry amid concerns current policy is putting growth and investment at risk.
The Scottish Affairs Committee heard evidence of uncertainty in the sector caused by recent changes to subsidies for renewable electricity generation.
These include the early closure of the Renewables Obligation scheme to onshore wind and solar, cuts to Feed-in-Tariffs and delays to the next round of Contracts for Difference.
The committee said the changes had been implemented in an "ad hoc" fashion with a lack of transparency over how decisions were made and without consultation with the industry or Scottish Government.
MPs concluded that the removal of subsidies for onshore wind would have a "disproportionate" impact in Scotland, which produces almost 30% of the UK's renewable electricity, and urged a review of the policy.
Scottish Renewables has said that the early closure of the Renewables Obligation to onshore wind could cost Scotland up to £3 billion in lost investment and put 5,400 jobs at risk.
The committee said it was "seriously concerned" the changes were implemented without an assessment of their impact on Scotland, and called for one to be carried out urgently.
MPs also urged regulator Ofgem to look at levelling connection costs across the UK to help renewable generators that are often located in remote areas and pay higher transmission charges.
They want the UK Government to do more to support the improvement of infrastructure between the Scottish islands and the mainland.
SNP committee chair Pete Wishart said: "This is an important sector of Scotland's economy, and also makes a vital contribution to meeting our commitments to tackle climate change. The sector's future success relies on a supportive policy framework in both Westminster and Holyrood.
"This report considers several policy changes the UK Government has made to support for renewables-early closure of the Renewables Obligation for solar and onshore wind, cutting support through Feed-in-Tariffs, and delaying the next round of Contracts for Difference-which we found have weakened investor confidence in the renewable sector, and put at risk opportunities for future growth.
"We have urged the Government to clarify the future support which will be available to the renewable sector, and set out how they will work with the Scottish Government to develop a clear, long-term plan that will allow renewable energy to remain a central part of the energy mix."
He added: "Our report was produced before recent changes to the structure of Government-the abolition of the Department of Energy and Climate Change, with its responsibilities moving to a new
Department for Business, Energy and Industrial Strategy-but this change indicates a troubling shift in the Government's priorities. I hope that the Government's response to our report will go some way to allaying these fears."
A spokesman for the department for business, energy and industrial strategy (BEIS), commented: "The creation of the Department for Business, Energy and Industrial Strategy puts climate change at the heart of our energy and industrial strategy, ensuring economic prosperity and security for our country."
"The renewables industry has been a strong success in Scotland thanks to UK Government support and we've been completely clear that our commitment to the industry will continue with the announced £730m funding package for future renewable energy projects."
"In the last funding round over 40% of successful UK projects were based in Scotland and further details of the new round will be made soon."
Recommended for you

CCU International lands six-figure deal with Unilever-SCI consortium