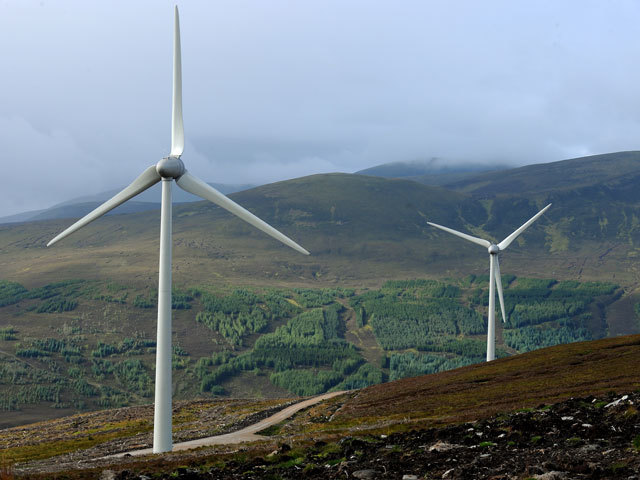 The spread of onshore wind farms in Scotland has not affected the number of people working in the tourism industry, either for better or worse, according to new research.
Economics consultancy Biggar Economics said its report did find areas where both tourism employment and turbine numbers had increased, but could not prove a direct relationship between the two trends.
Green groups hailed the report, but conservation charity the John Muir Trust questioned Biggar's methodology and said the findings needed to be carefully analysed.
Biggar drew its conclusions from its study of 18 Scottish sites between 2009 and 2013.
Among the sites included were Hill of Towie in Moray; Glenmoriston, Gordonbush, Kilbraur and Novar Extension in the Highland region; and Spurness on Orkney.
The report, titled Wind Farms and Tourism Trends in Scotland, looked at the number of people employed in tourism near the 18 wind farms before and after they were built.
It said the level of employment in tourism in Scotland increased by 10.8% to 211,215 between 2009 and 2013, while the number of turbines went up by 121%.
Sustainable tourism increased by more than the Scottish average in 15 of the 18 areas.
The authors of the study said: "An analysis of the levels of employment in the sustainable tourism sector in the immediate vicinity of onshore wind farm developments did not find any evidence of these areas being adversely affected."
Biggar director Graeme Blackett said the study, which was carried out as part of consultancy's own research and development programme, clearly demonstrated that renewable energy and tourism can co-exist in Scotland.
WWF Scotland director Lang Banks said he hoped the report would "put to bed the myth" that wind farms have a negative impact on tourism jobs.
Mr Banks said: "Over the past decade, Scotland's growth in renewables has created thousands of new jobs.
"And, to ensure we continue to reap the many benefits of a low carbon economy the Scottish Government's forthcoming energy strategy should set a goal of securing half of all of our energy, across electricity, heat and transport, from renewables by 2030."
Lindsay Roberts, senior policy manager at Scottish Renewables, said: "Today's new figures demonstrate once again that the well-documented economic and environmental benefits of green energy go hand in hand with significant social benefits."
But Helen McDade, head of policy at JMT, said some of the figures used in the report could be challenged as they were rounded up to the nearest 100.
Ms McDade said a more accurate way to find out if wind developments impacted on tourists' and residents' enjoyment of Scotland would be to ask them directly.
She said 51% of the 1,119 Scottish adults who took part in a YouGov poll in 2013 said they would be less likely to visit a scenic area which contains large-scale developments as opposed to 2% who would be more likely to visit.
Recommended for you

Work starts on ScottishPower's East Anglia 3 offshore wind project