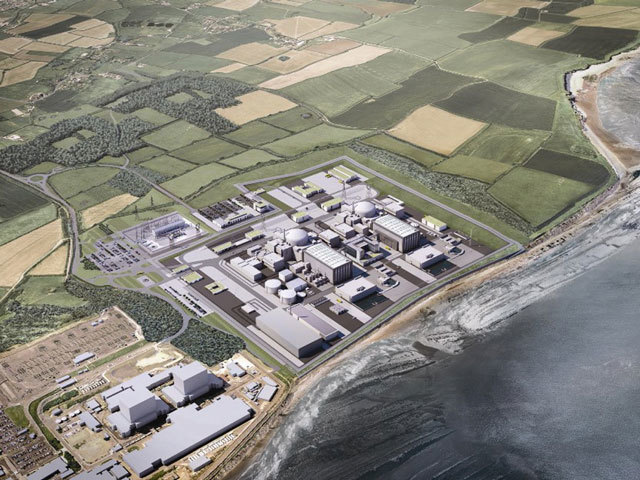 The British government's surprise decision last week to review the $24 billion Hinkley Point nuclear plant would leave a huge hole in the U.K.'s energy policy if it leads to the project's cancellation.
The two giant reactors planned for a site overlooking the Bristol Channel in southwest England would provide about 7 percent of the country's electricity, enough to supply about 6 million homes. Replacing that power at a time when existing nuclear plants will be retired, and coal stations must be closed to meet climate obligations, will pose a big, though not insurmountable challenge.
By plowing some of the money earmarked for Hinkley into offshore wind farms, capacity could be quadrupled by 2030, bringing costs down faster and making the technology more competitive against other energy sources, said Michael Liebreich, founder of Bloomberg New Energy Finance. Combined with measures to boost energy efficiency, that could bridge much of the gap created by the loss of Britain's first nuclear power plant since the 1990s, he said.
While many expect the government may yet give Hinkley the go-ahead when it makes a decision in September, if it does ditch the project, renewables won't be able to fill the whole gap. Fossil fuels will need to play a part and that's likely to mean more natural gas plants: they're relatively quick to build and give the same round-the-clock, or baseload, power nuclear provides. While gas isn't carbon free, it produces less than coal plants.
"It's unquestionably good for gas-fired generation," said Daniel Russo, an analyst at Aurora Energy Research Ltd. in Oxford, adding that without Hinkley plans for further new reactors in the U.K. would probably fall by the wayside.
To watch a QuickTake Q&A on Britain and nuclear energy, click here.
Britain would need 19 gigawatts of gas-fired stations to be built during the 2020s, equivalent to about six Hinkley Points, if the U.K. constructs no new nuclear stations until the 2030s, according to one scenario modeled by National Grid Plc, the company that runs the country's power network.
Gas is also much cheaper than nuclear. The price tag of additional gas capacity would be 4.6 billion pounds, about a quarter of the cost of Hinkley, according to Bloomberg New Energy Finance.
The biggest drawback to a dash for gas would be jeopardizing Britain's commitment to reducing carbon emissions.
Stephen Heidari-Robinson, former energy adviser to David Cameron, wrote in a blog post last week that without nuclear power carbon emissions will increase.
"If the U.K. government takes the decision not to go ahead with a new nuclear program, it would be a sign that it has abandoned the plan to hit our carbon reduction targets and that other considerations have proved more important," he said.
Nuclear is one of three technologies, alongside renewables and carbon capture and storage, seen as key for the U.K. meeting its 2050 target to curb emissions by at least 80 per cent from 1990 levels, according to National Grid.
To read Bloomberg New Energy Finance research on Hinkley review, click here.
Ministers were last month urged by their advisers at the Committee on Climate Change to draw up a contingency plan in case Hinkley was delayed or canceled. The CCC suggested a mix of tidal lagoon power and the further expansion of offshore wind, complemented by increased interconnection with other countries and energy storage.
"If the government is serious with its carbon targets, it can't replace baseload nuclear with gas alone," Russo said.
While it would be bitterly opposed by many energy policy makers on environmental grounds, one option could be to keep coal stations online for security of supply.
Scrapping Hinkley "could open up the possibility of keeping coal plants to 2030 or beyond to provide capacity for security rather than to actually run," Lakis Athanasiou, an analyst at Agency Partners LLP said by e-mail. "A lot of coal plants are reaching the end of their lives in the mid 2020s, but could possibly be extended with limited running hours."
In the longer run, Britain may not face a totally nuclear-free future even if Hinkley and other reactors are scrapped. Hinkley's expense was down to its scale — it would have been one of the largest nuclear plants ever built. A new generation of smaller, cheaper reactors may provide carbon-free power further down the line.
"If they wanted to be really progressive, they could see if Britain could capture a much bigger piece of the future nuclear value chain from small modular reactors," Liebreich said. This "would be much profound in terms of an industrial strategy."
Recommended for you

Scholz follows Senegal gas visit with Sasol SAF launch