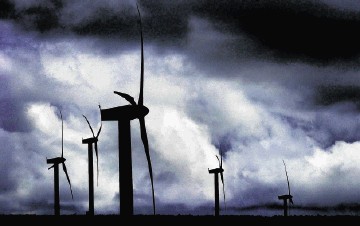 Scottish Power has warned no new framework has been created for windfarms when subsidies come to an end in April next year.
The company has warned development will come to a "standstill" if the UK government does not offer an urgent commitment to its future.
According to reports, Scottish Power has said it is involved in a "wind-rush" to build turbines before the Renewables Obligation is scrapped.
UK Ministers have said their position on the issue remains the same.
The Renewable Obligation Scheme (ROS) had allowed UK electricity suppliers to get a subsidy for agreeing to source an increasing proportion of the electricity they supply for renewable sources.
Keith Anderson, chief executive of Scottish Power Renewables, said the "support" he was urging did not mean a subsidy.
An estimated 221 new turbines will go online in the year to March 2017.
Lindsay Roberts, Senior Policy Manager at Scottish Renewables, said: "Onshore wind is already one of the cheapest and most popular forms of power generation. However the UK Government has locked future development out of the energy market.
"The Committee on Climate Change, their own advisors, say if we are to stand any chance of meeting our climate change targets we need to at least double our renewable energy capacity.
"So it's vital that the UK Government tells us what the future of onshore wind is going to be and that they simply allow it to compete in that energy market."
Recommended for you

Tory immigration proposals pose 'very real impact' for energy labour market