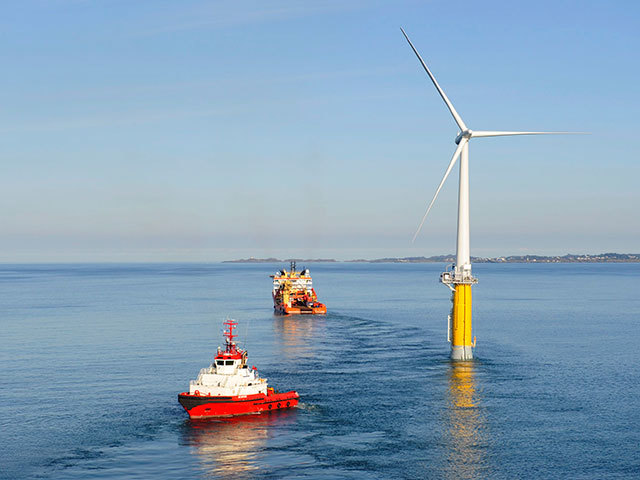 Statoil has topped a league table that ranked oil companies based on how well prepared they are for a transition to a low-carbon economy.
BP and Shell also finished in the top half of the table of 11 companies, while ExxonMobil and Chevron were towards the bottom.
CPD, a not-for-profit organisation that collects environmental data on behalf of investors with assets of $100trillion, drew up the report.
Statoil was the top performer because it had the highest percentage of gas in its reserve base and has committed to a number of offshore wind projects in recent years, including Hywind.
Italy's Eni came in second and France's Total was third.
Shell ranked fourth, helped by its takeover of BG, which increased its "exposure to natural gas".  The report said Shell was the only firm on the list that produced more gas than oil.
In fifth place was BP, which had the second highest gas production and a large alternative energy business.
Propping up the table was Canada's Suncor, which sold its natural gas business in 2013 and has the highest exposure to oil sands.
Exxon performed below its peers in its emissions performance to finish 10th.
Chevron was one place better off after managing to decrease its emissions from 2010 to 2015.
CPD said it compiled the table using emissions and water-related metrics which could have a material impact on company earnings and investment decisions as reducing carbon footprints becomes a priority.
Companies' preparedness was measured according to their fossil fuel mix, capital flexibility, climate governance and strategy, emissions and resource management and water resilience.
European oil and gas majors performed better than their counterparts on the other side of the Atlantic as they had a higher proportion of gas to oil, the report found.
It also said the companies' outlay on green technology would make up just 1.5% of total expenditure, raising the prospect of them missing out on a growing low-carbon market.
Recommended for you

Shell joins Exxon with $1 billion Brazil exploration setback