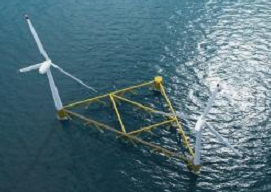 Two Highland ports are set for job boosts if planning permission is granted for a floating wind energy demonstrator project off Dounreay.
Dounreay Trì has awarded the construction contract for the 10MW twin-turbine prototype to Global Energy Group and entered into an agreement with Scrabster Harbour to service the development.
The company, formed by Sweden-based firm Hexicon for the project, say work is likely to start this summer if Marine Scotland and Scottish Ministers process the planning application by March 31.
No figure for the fabrication contract has been given, but last night Inverness and Aberdeen-based Global welcomed the award, saying it would deliver "much-needed additional jobs" at a time of job losses. It is thought the contract could involve up to 100 jobs at Global's Nigg Energy Park facility on the Cromarty Firth, as well as creating seven full-time posts at Scrabster.
If consented, the 623ft by 328ft floating platform and 98ft high columns will be the largest structure to be fabricated in recent years in the dry dock at Nigg.
Dounreay Trì say the project would put Scotland at the forefront of developing floating offshore wind technology that can be deployed in deep waters, off Scotland's north and west coasts, rather than just in shallower seas, such as those off the east coast at present.
The firm added that, unlike more conventional offshore wind structures, their design could open "enormous market potential" for construction facilities as they would be entirely assembled in yards, then towed into position.
Welcoming the contract award, Global's executive vice president, capital projects, Ian Cobban, said: "We are very pleased to have secured this construction contract for this innovative floating offshore wind device with deep water capability.
"We have the right experience and facilities to fully support the contract requirements and once planning is confirmed we envisage fabrication works will commence in Summer 2017, with assembly works within Nigg Energy Park's dry dock facility through to the first half of 2018.
He added: "This contract win highlights our ability to diversify our work into many different areas.
"At a time when we have been going through a difficult period with job losses, this will certainly provide much needed additional jobs for us and the local supply chain."
Dounreay Trì project director, Marcus Thor, said: "We are delighted to award the construction contract for such an innovative project being installed in Scotland to a Scottish company.
"It certainly has great potential to deliver both renewable energy and jobs for Scotland. Whilst we await the outcome of our planning applications, as and when they are approved, this will place Scotland at the forefront of floating offshore wind production worldwide."
The company's also described Scrabster Harbour as an "excellent facility" capable of supporting the project project over its 25-year life.
Scrabster port manager, Sandy Mackie, said: "Scrabster Harbour Trust is delighted that Dounreay Tri wish to establish an operation at Scrabster.
"Scrabster is ideally suited to support their operations and maintenance needs. We look forward to working with the company to deliver a successful project that will benefit the port and local economy."
A planning application for the project, 3.7miles off Dounreay, was submitted in November.
Recommended for you

No 'Saudi Arabia of wind power' here, complains Alba Party MP