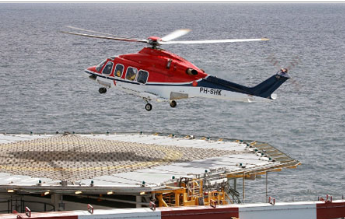 CHC has won a new contract to provide helicopter transport services for an offshore wind farm development in the German North Sea.
The firm did not disclose the value of the contract with the wind power division of German industrial giant, Siemens.
The deal comes in the wake of CHC having come to the end a contract with Apache North Sea which made up about 20% of its workload.
The company will support the construction of the Veja Mate wind farm with AW 139s from its base in Den Helder, the Netherlands, starting in January.
Mark Abbey, CHC regional director for Europe, Middle East and Africa (EMEA), said the deal comes after completion of a nine month contract supporting an offshore wind farm development, Gemini, in which Siemens has a stake.
He said: "We are excited to work with Siemens to support this landmark project.
"Last year, we celebrated the successful completion of the Gemini windfarm project in October 2016 after providing nine months of support for construction of the new farm offshore North East Holland from Den Helder.
"We are excited to continue to build on our successful relationship with Siemens, supported by CHC's decades of experience supporting a range of energy customers, as we continue to evolve and diversify our services and technology to best meet their needs."