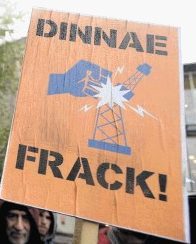 The Scottish Government wants to hear the publics' views about the future of fracking in the country.
A moratorium on unconventional oil and gas recovery was put in place by the SNP in January 2015 pending further studies.
And last week the party's energy minister Paul Wheelhouse MSP revealed that officials had undertaken an "extensive period of evidence gathering" around hydraulic fracturing or 'fracking' for shale gas.
This included looking at potential "economic, social, health and climate change impacts" of the controversial technique.
A full public consultation on the topic, including coal bed methane extraction, is now to be carried out with the findings reported back to Scottish Ministers who will then make a recommendation.
The consultation 'Talking fracking' will run until the end of May 2017 and can be viewed on the Scottish Government's consultation website:
http://consult.scotland.gov.uk
A dedicated website, www.talkingfracking.scot, has also been created to showcase Scottish Government research findings.
Minister for Business, Innovation and Energy, Paul Wheelhouse said: "The debate on the future of unconventional oil and gas in Scotland has proven both complex and controversial.
"It is also an issue that has stimulated intense discussion, motivated by deeply held and sincere views on all sides.
"The Scottish Government has sought to present impartial, independent information on unconventional oil and gas in order to encourage informed dialogue and debate.
"This consultation does not set out or advocate a preferred Scottish Government position or policy. Instead, we want to create space for dialogue and allow different perspectives to come forward.
The Scottish Conservatives have previously accused Holyrood leaders of ignoring the potential of unconventional oil and gas recovery in favour of renewables.
The consultations comes just days after Prime Minister Theresa May released an industrial plan for a post Brexit Britain – which only mentioned oil and gas twice in 132 pages.
Meanwhile SNP proposals for the future of the energy industry include favouring a move towards renewable sources coupled with ambitious green energy targets.
One of the key targets of the SNP is to deliver half of Scotland's heat, transport and electricity needs from renewable sources by 2030.