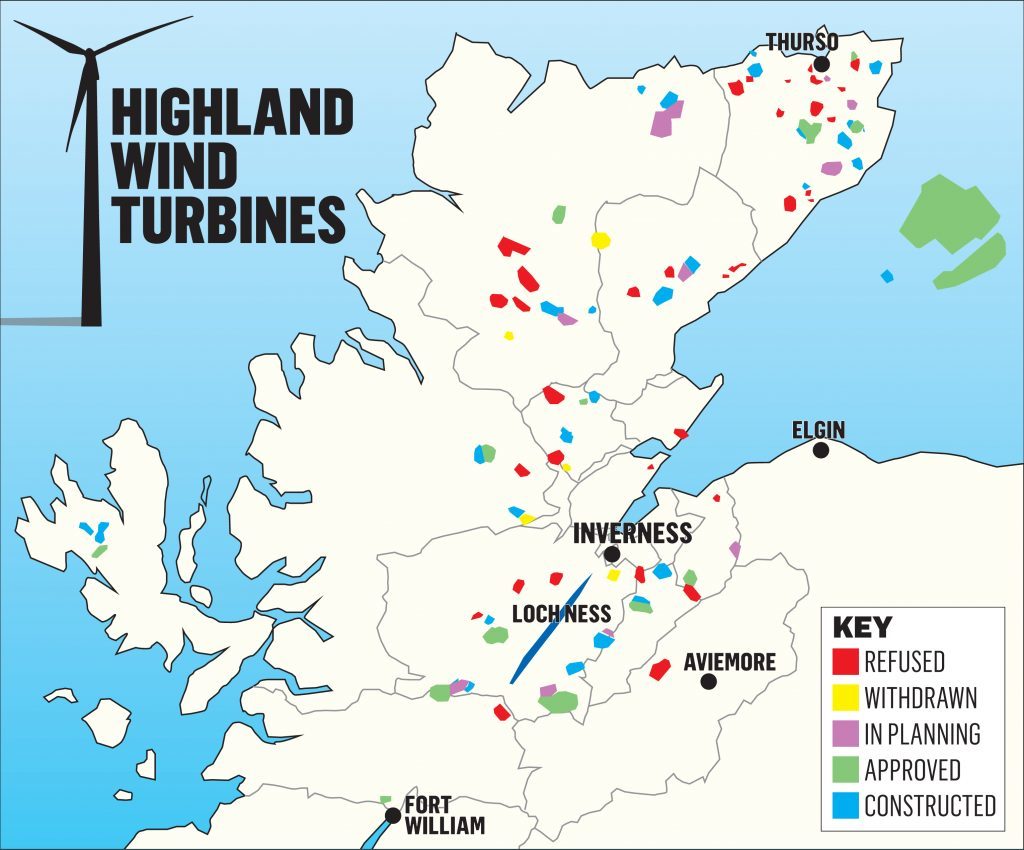 The scale of the spread of windfarms in the north of Scotland has been exposed in a new map.
Highland Council produced the graphic, which shows current developments along with those approved but not built, those being planned and those refused or withdrawn.
Anti-windfarm campaigners branded it "truly shocking" and said it showed the devastatingimpact turbines werehaving on the landscape of the Highlands.
But Holyrood insisted it was committed to "striking a balance" between making the most of renewableenergy and protecting the environment.
The map clearly shows the so-called "ring of steel", in the hills around Loch Ness.
The largest development is the yet to be built Beatrice windfarm of 180 turbines in the Moray Firth, off Caithness.
Beauly anti-windfarm campaigner Lyndsey Ward said the scale of the developments was shocking.
She added: "For years campaigners warned it was far too much and take no pleasure in being proved right as hundreds of turbines are springing up all over our hills and glens.
"The Scottish Government has been driving the gravy train for the subsidy hunting developers and should be ashamed of the devastation they have presided over."
Stephanie Clark is policy manager at ScottishRenewables.
She said: "Onshore wind is supported by a record high of 71% of people. It provides the bulk of Scotland's green energy capacity cheaply, predictably and alongside a whole raft of other social, environmental and economic benefits."
A Scottish Government spokesman said: "We have clear planning policies in place to ensure windfarms are developed in appropriate locations."