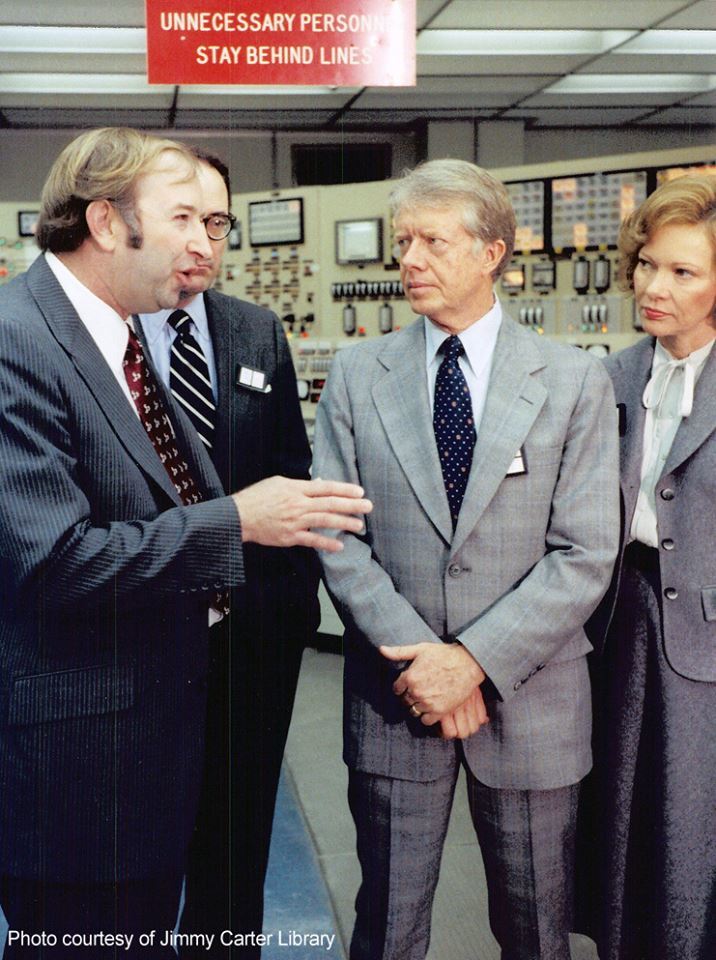 Tributes have been paid to a key figure in American nuclear history who passed away aged 80.
Harold Denton was known as the face of the US Nuclear Regulatory Committee (NRC) after appearing as president Jimmy Carter's personal representative in the worst meltdown in stateside history.
The Three Mile Island accident in Dauphin County, Pennsylvania, 1979, was the most serious accident in US commercial nuclear power plant operating history.
Luckily there was no detectable threat to worker or to the general publics' health despite small radioactive releases from a partial meltdown at the site's second reactor.
But the accident was a catalyst for the US atomic industry with sweeping safety reforms ushered in as a direct result.
Mr Denton served in many capacities at the Atomic Energy Commission and the NRC during his long career
However he came to to the fore when president Carter trust him into the spotlight to explain the Three Mile incident to a terrified American public.
His ability to accurately assess the plant's condition and explain it to the public won him the trust of federal and state officials, the media and local residents.
A newspaper later editorialised Denton as a "father-figure to thousands of traumatized people in this region".
Victor McCree, executive director for operations for the NRC led the tributes.
He said: "Harold Denton was the face of the U.S. Nuclear Regulatory Commission during the Three Mile Island accident in 1979.
"I was extremely saddened to learn on his recent passing.
"We consider him a member of the NRC family, and we remember him fondly for his leadership, technical expertise, dedication to public health and safety, and calm demeanor. He will be greatly missed."
Harold earned a degree in nuclear engineering from North Carolina State University.
Among his many awards were the Presidential Distinguished Executive Award and the James M. Landis Medal from the American Society of Mechanical Engineers.
Mr. Denton died February 13 in Knoxville,Tennessee, after a lengthy battle with chronic obstructive pulmonary disorder and Alzheimer's disease, his family said.