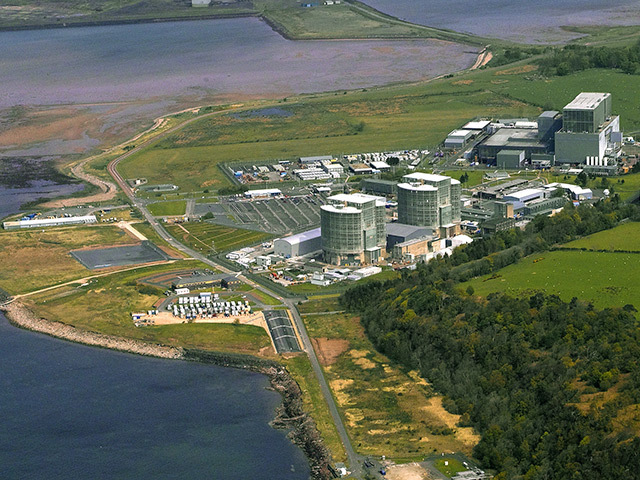 A Scottish politician has criticised the UK's Office for Nuclear Regulation (ONR) over changes to safety regulations for the Hunterston B power station in Ayrshire.
THE ONR has ruled that a periodic safety review by operators EDF is "adequate".
As a result the UK atomic agency has relaxed the safety case regarding the plant's graphite core.
The revised safety case provides new limits and conditions of operation in response to keyway root cracking of the graphite in the core.
This is an expected part of the aging process as reactors get closer to their end of life. Acceptance of the safety case is also reliant on a revised inspection and monitoring strategy.
But Ross Greer, Scottish Green MSP for Wwest of Scotland, last night hit out at the lack of public consultation on the matter.
In January, Greer championed a report authored by an independent expert on nuclear safety, which concluded that despite it being probably illegal under international law, the Scottish public were being denied a say in the decision to keep Scotland's oldest nuclear power station running.
The MSP said: "News that EDF are to be allowed more cracking within Hunterston's reactor will concern residents across North Ayrshire, the West of Scotland and further afield. The lack of public consultation is simply unacceptable.
"It's disappointing that the Scottish Government have not spoken out on the issue. European law says all ageing nuclear power stations should have an environmental impact assessment comparing their continued operation against alternative sources of energy such as renewables, and that the public should be involved, but that hasn't happened.
"We should be putting efforts into building our renewables capacity and the secure, long term jobs which come with it, reducing demand through energy efficiency measures and ensuring a jobs transition for nuclear workers at sites such as Hunterston."
However the ONR said the safety case has only been relaxed with the conditions of regular inspections and assessments.
Dr Richard Savage, chief nuclear inspector said: "From our extensive review of the safety case processes and procedures, we confirm that EDF has justified future operations for the period through to end of generation (currently 2023) and defueling activities to 2027.
"However, ONR's confirmation is subject to their operations being supported by a detailed understanding of the condition of the core at each reactor must undertake regular inspections and assessment of the graphite cores to demonstrate that it remains within the limits and conditions defined in the safety case.
"Our assessments in a range of technical disciplines, along with our frequent specialist inspections, and discussions with external experts, led ONR to make a number of recommendations with the aim of improving future safety cases. This includes the requirement for NGL to prepare a safety case for the graphite core, defining the safety limits marking end-of-generation.
"We are here to hold the nuclear industry to account and ensure that duty holders operate in a safe and secure manner. This is always at the forefront of our thinking and we will continue to make certain that any safety case remains adequate and that the safety of operations is confirmed through our ongoing assessments and inspections."