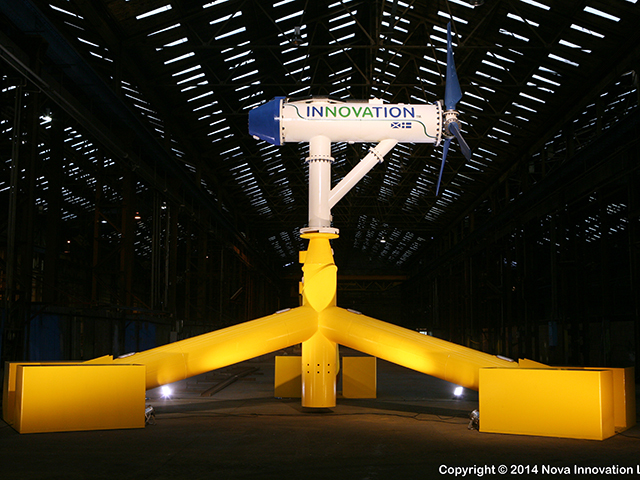 A Scottish marine energy company that has developed a tidal array off Shetland won £40,000 in a competition for companies with low-carbon energy projects.
Nova Innovation, which designs, builds, installs, commissions and operates tidal energy projects, was one of three regional winners that will go forward to a national competition in April where the prize is a further £110,000.
The Edinburgh-based tidal company joined a lithium ion battery company from Wales, V2G Systems, and a company that has developed software that manages supply and demand on the grid, Upside Energy, as the winners at the Shell Springboard competition held in Aberdeen last night.
The Shell Springboard programme supports UK businesses with solutions to reduce carbon emissions and the event last night was the first time the regional final has been held in Aberdeen.
Over the last 12 years, Shell Springboard has awarded more than £3.5million to 92 low-carbon businesses.
Ed Craig, head of enterprise and innovation at the Edinburgh Centre for Carbon Innovation and chair of the judging panel said: "This was a two-stage selection process. There was over 130 applications, 16 were selected to go through that.
"These applications were debated over and the standard was incredibly high.
"It was really powerful. We were in there for nine house and it flew by."
Simon Forrest, managing director of Nova Innovation, said: "We are delighted to win. The Shell award really helps us go to new markets. It is a brand that is recognised around the world so it will help us with recognition in Indonesia and Japan. We are a small company so having a brand like that to have helped us is great."
Angus Gillespie, Shell's vice president of CO2 policy who hosted the event for the global oil giant at the event, said: "With new ambitious targets set on carbon emissions a lot of people in this room will have a key role in helping the country reach the new aspirations.
"In particular I believe Scotland's enterprises and the businesses here today can play a critical role in accelerating the energy transition.
"I'm very proud of the role Shell Springboard plays in supporting these enterprises. And alongside the grant funding we use our expertise, our networks and our resources to help these innovators create sustainable and I hope successful enterprises."