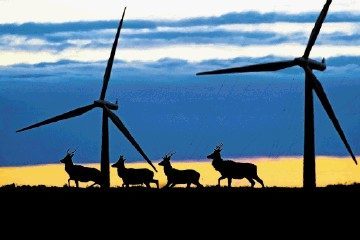 A controversial £2billion Scottish wind farm off the east coast of Scotland has been given another chance after overcoming a major development hurdle.
The 450MW Neart na Gaoithe (NnG) array – which is planned to be built on a site 15 kilometres off Fife– is one of the largest energy infrastructure projects currently being pursued in Scotland.
It has the potential to create enough power to supply more than 325,000 homes, but has been left hanging in the balance after being dealt a double blow.
The project was first caught up in a court challenge by nature lovers and then had its vital power contract rescinded.
Neart's Contract for Difference (CfD) was awarded by the Low Carbon Contracts Company (LCCC) in March, 2015, following a competitive tender process.
The agreement – one of just two handed out at the time – entitled NNG to an inflation-linked strike price for the electriticy it produced over a period of 15 years.
LCCC's decision last March to remove NnG's contract – which was initially awarded at a strike price of £114.39 per megawatt hour – was seen as a potentially lethal blow to the project.
However, Dublin-based developer Mainstream Renewable Power challenged the decision and the CfD has now been reinstated following a tribunal.
"LCCC and NnG submitted a dispute relating to the termination of NnG's CfD to arbitration," the companies said in a joint statement.
"The arbitral tribunal has made its decision in NnG's favour under the dispute resolution procedure set out in the CfD.
"The details of the dispute are, and will remain, confidential as both parties are bound by the confidentiality obligations both within the CfD and the rules of the arbitration."
While the decision is positive news for Neart, the project and two other multi-billion pound schemes – Inch Cape and Seagreen – being pursued for waters off Fife and Angus remain on hold.
The developments cannot begin until the outcome of an appeal is clear into the Court of Session's ruling that consents provided by the Scottish Government for the arrays were seriously flawed in both procedure and substance.
The case was brought against Scottish Ministers by bird preservation charity RSPB Scotland after they sought judicial review of the planning approval decisions.
The Scottish Government, Mainstrean and Inch Cape brought forward appeals in August and a further ruling is expected within months.
Recommended for you

EDF's Neart na Goithe delayed to 2024