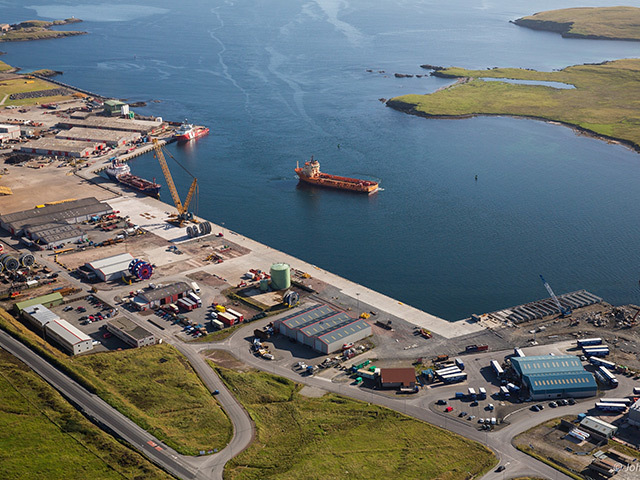 Renewable energy firm Peel Energy has unveiled plans for a new 21 turbine new wind farm at the outskirts of Lerwick.
The development, described as the Mossy Hill development, is planned to have a capacity of 49.9MW with each turbine up to 145 metres high.
The wind farm's final design will depend on the outcome of a public consultation and a number of studies, the company said.
Peel, which is also behind plans for a 17-turbine wind farm in the south east of Yell, will outline its initial plans to Shetland Islands Council next week before lodging a full planning application next year.
As with the Peel's Yell development and Viking Energy's long-mooted 103-turbine farm on the mainland, the project is reliant on a subsea interconnector cable being laid to connect Shetland to the UK power grid.
Bernadette Barry said four public consultation sessions would enable Peel to discuss how the development could benefit the community.
"This will be the first stage of a consultation process leading up to the submission of a full planning application for Mossy Hill wind farm," she said.
"At these events we want to explain our plans and seek residents' views as well as outlining our proposed community benefit scheme. We highly encourage residents to attend these meetings to find out more."
The public consultations will take place as follows:
o Tuesday 25th April – Staneyhill Public Hall, Lerwick 2pm-7pm
o Wednesday 26th April – Gulberwick Community Hall, 11am- 3pm
o Wednesday 26 April – Scalloway Public Hall, 6pm-8pm
o Thursday 27th April – Tingwall Public Hall, 2pm-7pm
Local anti-Viking Energy campaign group Sustainable Shetland has already said it would object to the proposal.
Its chairman Frank Hay said: "We will discuss this proposal at our next meeting.
"Interesting to note that the rated capacity is 49.9 MW which would allow the SIC to make the planning decision."
Recommended for you

ScotWind – Who's in the running with the results due imminently?