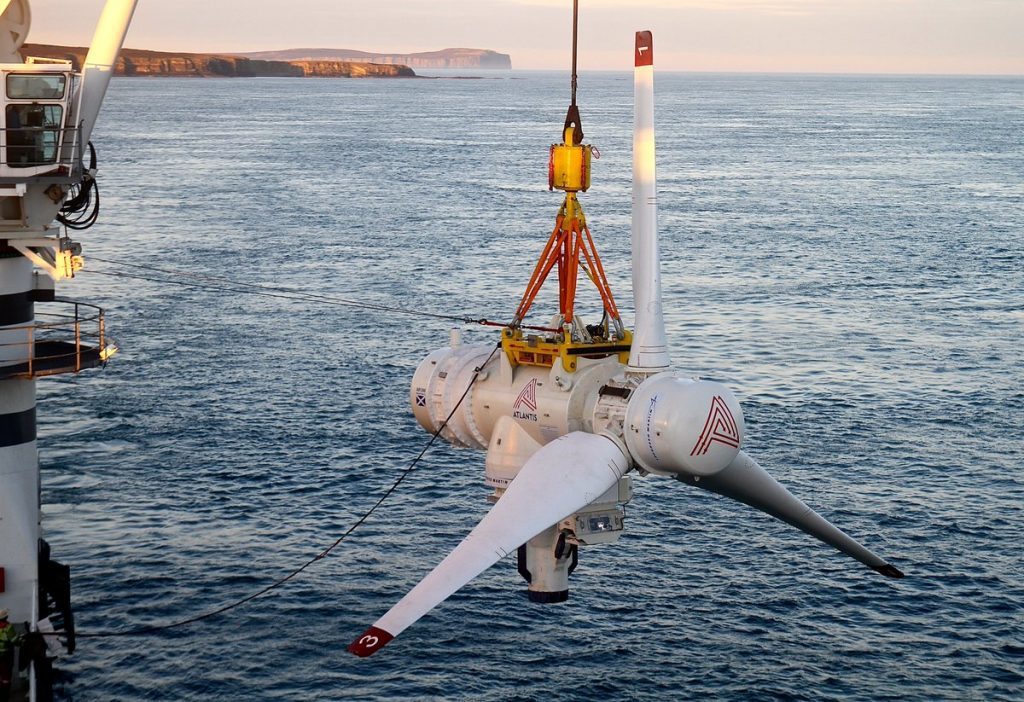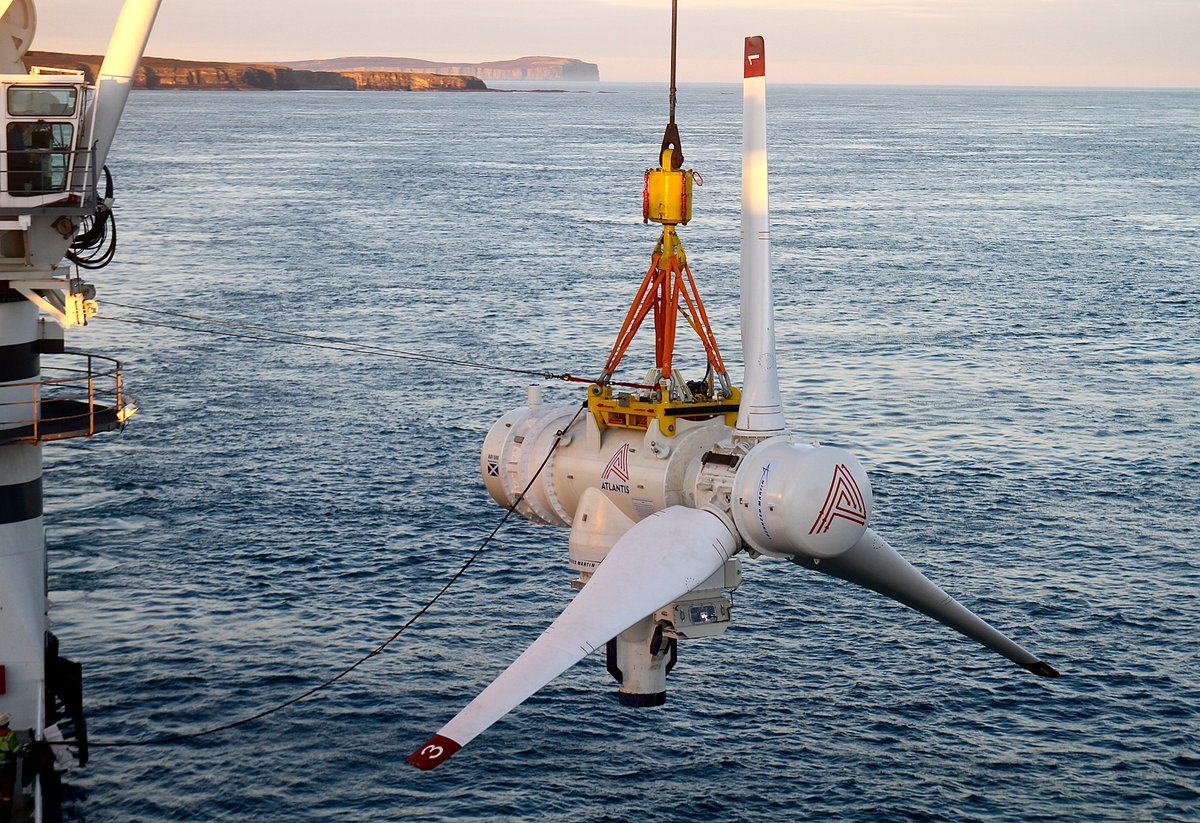 Anyone who's ever stood on one of the beaches of Caithness or Orkney and stared out across the Pentland Firth can't help but have been impressed by the sheer power of Europe's most turbulent waters.
As the Atlantic Ocean meets the North Sea, the tides surge through the gaps between Scotland and Orkney at speeds reaching more than 16ft per second.
The facts and figures surrounding the Pentland Firth are breath-taking.
Thomas Adcock, an associate professor at Oxford University, has calculated the firth could be used to produce 1.9 gigawatts (GW) of power – that's more than a nuclear power station.
Some 16.5 terrawatt-hours (TWh) of electricity could be produced each year by placing tidal turbines in the firth, enough to meet around half of Scotland's power demand.
When coupled with the 14.9TWh of electricity already being produced by wind turbines, hydro-electric schemes and other green-energy projects throughout our nation, harnessing the forces in the Pentland Firth would put Scotland on course to hit its 100% renewable electricity target by 2020.
It is little wonder that former First Minister Alex Salmond hailed the waters as the "Saudi Arabia of marine power".
Previous Scottish Government figures had suggested 14GW of power could be exported from the firth, while others put the combined wave and tidal figure at 60GW.
At the heart of generating power from the Pentland Firth is Atlantis Resources, a company that joined the London Stock Exchange's Alternative Investment Market in 2014 and relocated its head office from Singapore to Edinburgh the following year.
The company's flagship project, Meygen, lies between Caithness and the island of Stroma in the firth.
Back in 2010, The Crown Estate, the landlord for the UK's seabed, agreed to lease a site for the 398 megawatt (MW) Meygen project, which is being built in phases.
The first, phase 1A, consists of four 1.5MW tidal turbines, which to uninitiated outsiders look like wind turbines that sit below the waves.
These turbines are currently undergoing their final upgrades before being issued with their handover certificates.
Atlatis chief executive Tim Cornelius said: "We'll then be running into the financial close for phase 1B, which consists of another 6MW.
"That's really a big precursor to Maygen phase 1C, where we'll be looking to install a further 75MW and that's around about 50 turbines.
"We're actively in the market looking at finance packages right now and, more importantly, that will represent a significant reduction in the overall cost of energy from phase 1A pricings down to where we think we can install phase 1C.
"In terms of the indicative levelised cost of electricity (LCOE), Meygen phase 1A was around £300/MWh (megawatt-hours) and phase 1C will be down at about £100/MWh. It truly is the world's flagship tidal power project."
Looking further into the future, phase two of the project could see further turbines installed, taking Meygen up to its current grid capacity limit of 252MW. Upgrades would be needed for the third and final phase to reach its full 398MW.
Mr Cornelius and his team are also looking beyond the Meygen project. "As the price keeps coming down, it brings more projects into the money," he said.
"For us, that's why we have development rights we've secured through the agreement for leases with The Crown Estate for projects like Ness of Duncansby and Brough Ness, which are within reasonable proximity to the Meygen project and so would effectively become extension projects and make use of existing infrastructure to keep driving down that LCOE.
"Our immediate intension is to enlarge Meygen from 400MW to closer to 700MW and do that at very competitive prices.
"On top of that, we have other concessions in other parts of Scotland, particularly on the west coast around Islay. After Meygen, Islay will be the next region that gets developed."
Further afield, Atlantis is working with the French government on potential projects in Brittany and Normandy, where it would be an investor and developer, and on schemes in Indonesia and perhaps South Korea, where it would supply equipment and expertise.
Mr Cornelius sees the future lying in a blend of the two models.
The European Marine Energy Centre (Emec) on Orkney also has a distinctively international outlook. The centre allows companies from around the world to test both wave and tidal devices at sea, helping them to turn prototypes into working devices.
Back in 2014, Pelamis Wave Power fell into administration, with fellow wave developer Aquamarine Power scaling back its operations just days later. The double blow called into question the future of Scotland's fledgling marine-energy sector.
But tidal-energy development has continued to go from strength to strength, so why did one type of renewable-energy prosper as the other sank?
"Drawing comparisons between wave and tidal is frankly not fair," Mr Cornelius said, adding: "The fact we share the ocean is a bit like saying that solar and geothermal are the same because of heat.
"Ultimately, wave is a much more challenging environment.
"In the tidal stream market, we're not having to rely on creating new intellectual property – we are borrowing heavily, using cables and vessels that are very tried-and-tested in the offshore wind industry, along with onshore equipment that's effectively off-the-shelf and was developed for the wind industry over the past 10-15 years.
"And then our connection equipment is pretty standard oil and gas. So, we're about systems integration rather than about making quantum leaps in technology development, and that's one of the reasons that tidal stream has prevailed and is growing rapidly."
That assertion is borne out at Emec, which currently has eight clients working on tidal-energy devices. They include Dublin-based Open Hydro, whose device was the first to generate electricity for the UK's national grid, and Dutch company Tocardo, which is testing 10 tidal turbines internationally.
Emec is also home to Scott Renewables, which hit the headlines in 2012 when it became the first company in the world to export power to the grid from a floating device. The firm is now testing a 2MW commercial-scale turbine, understood to be the largest on the planet.
"I don't think there are any other test centres in the world with four machines in the water," Emec managing director Neil Kermode said, adding: "We're very proud of that.
"This is all about the growth of the industry. It's about not just making a prototype that works once but about developing products that can be sold.
"There are a number of advantages to having overseas companies working in Scotland. The energy is here in Scottish waters and so this is where the turbines need to be placed to harvest it.
"While some turbines might be built abroad, they'll be maintained by workers here in Scotland who know the waters, using Scottish ports.
"Other devices will be built here in Scotland because they're big and heavy – there are sites in Scotland that are already picking up contracts to build the hardware locally.
"There's also the service element. By developing the skills here, we can then export them around the world, just like we did with the oil and gas industry."
While the fledgling tidal sector is gaining momentum, there could still be choppier waters ahead.
Developers are expected to come up against the same challenges over grid connections and capacity that have been faced by other renewable-energy companies in the north, including windfarm operators.
Lindsay Roberts, senior policy manager at trade body Scottish Renewables, said: "The grid remains a significant challenge for getting any form of renewables off from the islands.
"There's been a huge amount of effort going on through the islands forum, with the UK and Scottish governments working together with the industry.
"We saw in the UK and the Scottish Conservative manifestos recently a commitment to progressing island wind. The solution is to upgrade the grid system, which would benefit the offshore guys as well."
Ms Roberts pointed to a wider problem about funding for wave and tidal projects through the UK Government's contracts for difference mechanism, through which power stations, windfarms and other generators bid to supply power to the national grid based on price.
"The fact that the cost of the power produced by solar and onshore wind has been coming down in price so much is a challenge for marine, and tidal in particular," she said, adding: "Tidal is making huge cost reductions at the moment but the prices that it's competing against are a constantly-moving feast.
"One of the questions the industry is asking is whether assessing technology against technology purely on the basis of cost is the way to do it?
Should you look at the other benefits that could be brought by developing these marine technologies, such as the gains for the whole energy system, or industrial benefits such as manufacturing opportunities and job creation?"
Recommended for you

Kellas Midstream secures first hydrogen customer for H2NorthEast