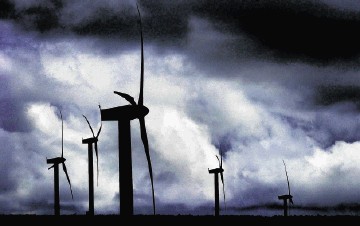 Developers have revealed nearly 2,000 jobs will be created as part of plans for an offshore windfarm to be based on the Moray coast.
Nearly 190 wind turbines will be built in the Outer Moray Firth, which will power nearly 750,000 homes.
Proposals for the Moray East Offshore Windfarm were approved in 2014, and now the project is moving forward with the developer seeking to instal almost 19 miles of cable to transport the power onshore.
And last night, developer EDPR revealed the windfarm will create nearly 2,000 jobs over the course of its 30-year production.
The firm has now applied for a compulsory purchase order (CPO) to obtain the remaining 3% of the land not yet agreed.
However, in order to obtain the necessary contract to sell the energy generated from the windfarm, the firm must also take part in an auction to win a contract for difference (CfD) – an agreement which guarantees energy producers a "strike price" for every megawatt per hour (MWh) they supply to the grid over a 15-year period.
EDPR will find out if it has been successful on September 11, and if so, construction will begin in 2019.
To bring the energy onshore, the company wants to build a subsea cable which will connect to a substation planned for New Deer.
Dan Finch, EDPR's head of offshore, said: "At a time when old power stations are reaching the end of their lives, Moray East Offshore Windfarm will deliver much needed new generation capacity, improving security of supply and reducing both costs and greenhouse gas emissions.
"This is a multibillion-pound project which will provide economic opportunities for Aberdeenshire, for Scotland and the UK, and connection to the National Grid is a vital part of that project.
"Acquiring the underground land rights for over 30km of subterranean cable is a complex matter. Most of this order relates to land ownership uncertainty, and I would like to thank the communities and individuals of Aberdeenshire who have enabled the vast majority of land agreements to be reached through voluntary negotiation."
Moray East is a companion project to the 90-turbine Moray West development announced in May.​
Recommended for you

Watch: Minke whale spotted visiting Scottish offshore wind turbine