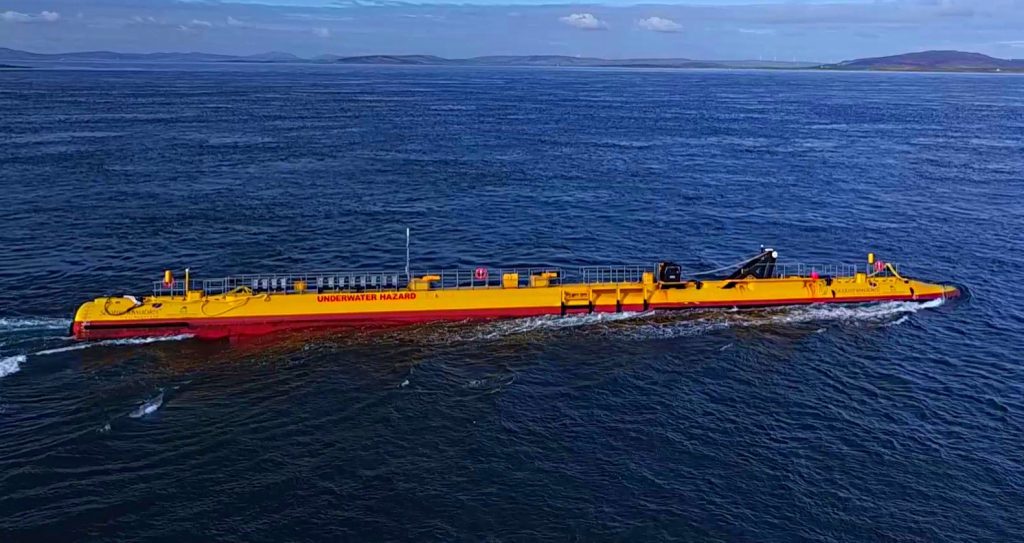 The world's largest and most powerful tidal turbine has produced 7% of Orkney's energy demand in a week.
The SR2000 floating turbine managed to generate 116MWh over seven days of testing and was able to produce 25% of the island's demand during more concentrated periods.
Designed by Scotrenewables, this testing period brings the SR2000 in line with other established turbines currently operating.
The 2MW SR2000 is currently undergoing a comprehensive, grid connected, test programme at the European Marine Energy Centre in Orkney concentrated on proving power and hydrodynamic performance.
This is the second time this year the turbine has met expectation having reached the 2MW rated capacity of the SR2000 tidal turbine in April.
Andrew Scott, CEO of Scotrenewables, said: "We are tremendously pleased with these latest results from the test programme. The SR2000 has met, and in many instances exceeded expectations, and combined with the fact this is the world's most powerful operating tidal turbine it means we're making a material contribution to the generation mix in Orkney with just this single unit.
"Recognising we are still in the early stages of our demonstration programme this is a tremendously reassuring level of performance to be achieving, one which provides further confidence in our technology's ability to deliver a significant step reduction in the cost of energy from tidal stream and meet our future customers' needs."
Hannah Smith, senior policy manager at Scottish Renewables, said: "Scotrenewables' latest milestone is typical of the achievements which just keep coming in our cutting-edge tidal energy sector.
"Scotland now has more wave and tidal energy generators in the water than ever before, cementing our world lead in these challenging but hugely-promising industries of the future.