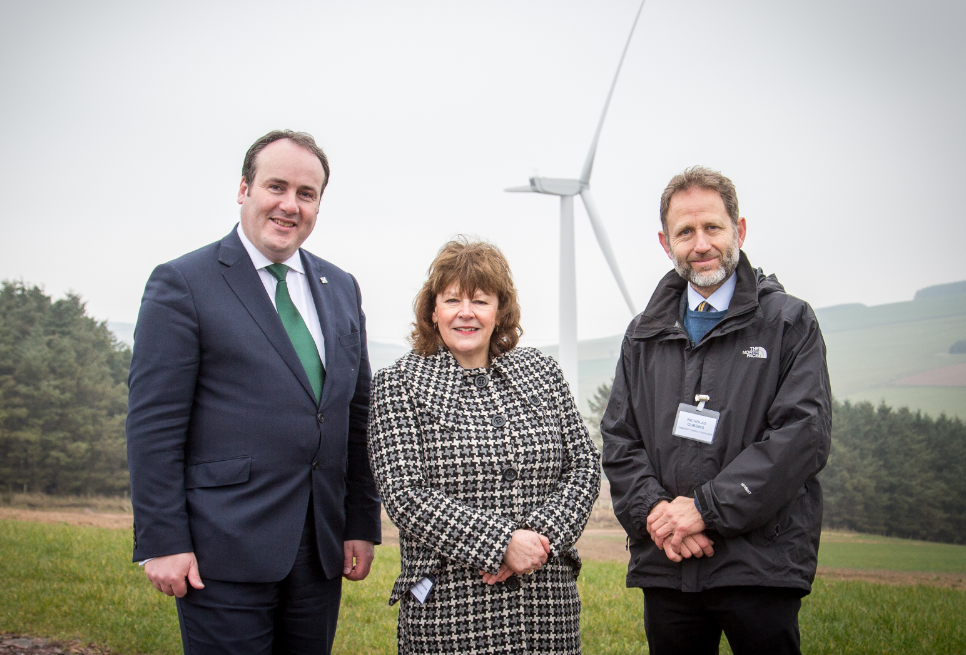 The Fisherman Three wind farm in the Scottish Borders will use the money it generates to fund local housing and community projects.
The three turbine community wind project will use the £20million it's expected to make over the next 25 years to build 500 new homes through Berwickshire Housing Association (BHA).
A £10million portion of revenue will also go to Community Energy Scotland (CES) who will use it to support community development in renewable energy projects.
Launched in March 2017 by Paul Wheelhouse MSP, Minister for Business, Innovation and Energy, The Fisherman Three has also been nominated in two prestigious award categories for 'Best Community Project' at the Scottish Green Energy Awards while also competing in the Margaret Blackwood Award for Excellence in Housing Innovation.
Situated near the Scottish Borders village of Cocksburnpath has an installed capacity of 7.5MW and will export just under 25 million kilowatt-hours each year – enough energy to power around 5,900 households.
Helen Forsyth, chief executive of Berwickshire Housing Association said: "Not only will the wind farm power homes and provide us with a steady source of income to allow us to build much-needed new homes, it will also provide an initial community benefit payment of £37,500 per year. This will be given to the communities closest to the wind farm, to be spent on whatever they identify as their priorities. It will also save 12,000 tonnes of carbon dioxide emissions each year.
"The wind farm has already been highly commended in the British Renewable Energy Awards earlier this year. It's great to be shortlisted in two such prestigious awards, but of course we're really hoping that it picks up at least one win – if not two!"
Nicholas Gubbins, chief executive of Community Energy Scotland said: "It's great to see the wind farm being recognised again, by experts in both the housing and the renewable energy sectors, which is entirely appropriate as it is making such a difference in both areas.  We hope that taking home an award will make the project even more inspirational to other community groups who might want to take forward their own renewable energy projects."
Recommended for you

Work starts on ScottishPower's East Anglia 3 offshore wind project