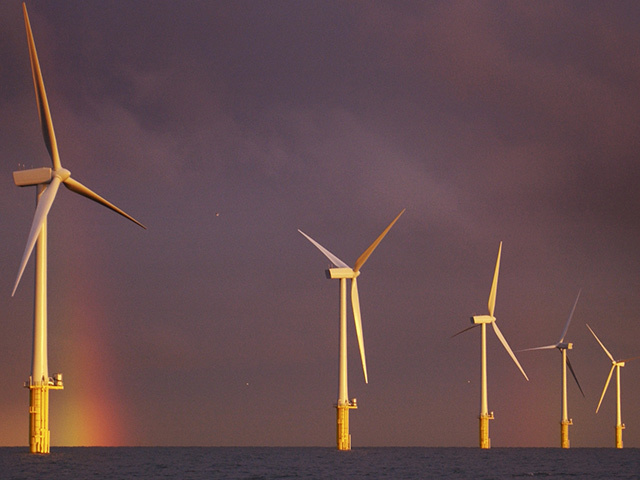 The proposed Fife wind farm, Neart na Gaoithe, has formed a coalition group to combat increasing pressure from outside forces to halt the project.
Entitled the Neart na Gaoithe Coalition, it's been made up of a number of supportive companies from across Scotland.
Since its creation ten weeks ago the support group has managed to accumulate 50 members.
The Neart na Gaoithe offshore wind farm was one of four projects given the go-ahead by Scottish ministers in 2014, but was strongly challenged in the courts by RSPB Scotland.
The charity continue to claim that the Neart na Gaoithe (NnG) project is a serious threat to sea birds, and especially the impact of the proposed arrays on puffin colonies and other bird life in the vicinity
Despite the RSPB winning the initial legal battle after arguing the developments – also including the Inch Cape and Seagreen Alpha and Bravo projects – threatened thousands of seabirds, the ruling was overturned after ministers on appeal.
According to the new NnG Coalition, it has been formed and will use its 50 members to 'highlight the importance' of this particular offshore project to the Scottish economy and for Scottish jobs.
The Fraser Allander Institute recently estimated that the NnG wind project would contribute 0.6% GDP to the Scottish economy, a windfall of £827million across the projects lifespan, while adding 2,000 jobs to the local economy during construction.
Alan Duncan, spokesman for the NnG Coalition, said: "The voices that have come together to support the NnG wind farm are becoming difficult to ignore. The Scottish supply chain knows the importance of NnG to the Scottish economy as well as to its environment.
"Even at this late stage, we call on RSPB Scotland to drop this court action and to work with the Scottish supply chain and Mainstream Renewable Power, the developers of NnG, to make this already consented project a reality."
Christine Bell, Eyemouth Harbour Trust, said: "NnG would have a positive impact on our local community in Eyemouth because it would bring new businesses to the town.  It would provide an economic boost and a transformational change in Eyemouth – our hotels, our restaurants, retailers, taxi and transport companies, businesses such as IT and office supplies, would all benefit. We want our young people to stay and have the opportunity to develop skills and careers locally."
Recommended for you

EDF's Neart na Goithe delayed to 2024