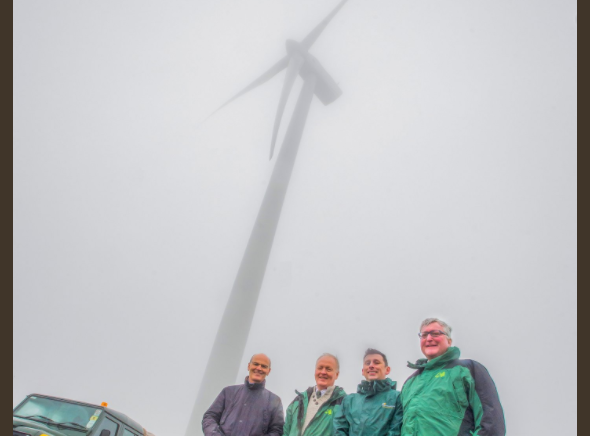 A new Scottish onshore wind farm has been installed with the capacity to generate enough energy to power 500,000 homes a year.
The new development, situated within a national forest estate near Dumfries, is an increase in capacity from 136MW wind farm launched in 2014.
Named Harestanes Wind Farm, it is predominately run by Scottish Power Renewables.
The boost is a consequence of Forest Enterprise Scotland working with a number of energy companies with existing renewables projects on the estate.
Forest Enterprise Scotland receives around £11million a year for leasing the land to allow energy projects.
Fergus Ewing, Cabinet Secretary for Rural Economy and Connectivity, said while visiting the project: "Our national forest estate is delivering on a number of fronts for the people of Scotland.
"This generation of clean renewable energy generation is playing an important contribution to our ambitious climate change programme. However, the benefits don't stop there.
"Communities across the country, often in remoter rural areas, are currently benefiting from over £2.7 million each year in community payments as a result of these renewable energy projects. This extra money is often welcome in helping communities with local initiatives."
The majority of the 1GW generated by the development comes from wind while the remaining amount is derived from smaller hydro schemes.
The project also claims to pay £300,000 back into the local community fund of Annandale and Nithsdale.
Kenny Peberdy, UK Onshore Director for ScottishPower Renewables said: "Our work with Forest Enterprise Scotland stretches for almost 20 years, and we have helped to deliver a portfolio of projects which contributes to the fantastic achievement of the 1GW milestone.
"We hope to continue this successful working relationship for many years to come, not only to develop new wind farms, but also to extend the life of existing projects and to re-power other sites. As the world strives for a carbon free energy environment, it is important that this gigawatt of clean electricity does not diminish in the years ahead."
Recommended for you

Joining forces to deliver the UK's offshore wind ambitions