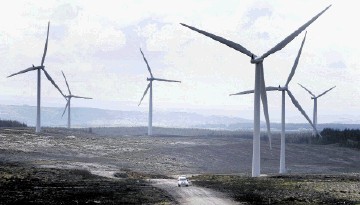 The first turbine at a £1.3 billion offshore wind farm has started generating power.
Energy firm E.On announced the latest development in the Rampion project on Monday.
It comes after construction of the 166 turbines eight miles off the Sussex coast finished in September.
The wind farm is expected to produce enough electricity for around 347,000 homes – the equivalent to around half the homes in Sussex, a spokeswoman said
The remaining turbines will be turned on one by one over the coming months so the 400-megawatt farm will be fully functioning in 2018, according to the company.
Project director Matthew Swanwick said: "We're especially proud to have reached this milestone as the first power is generated at Rampion.
"Over the last two years the construction team has worked tirelessly in all weather conditions to complete this remarkable engineering feat."
Recommended for you

Aberdeen Offshore Wind Farm reaps benefits of surging energy prices