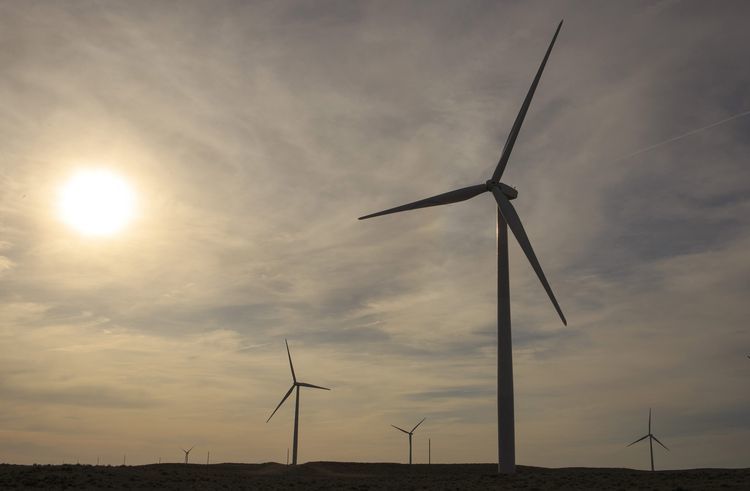 Plans for a 63-turbine windfarm on the Shetland island of Yell have been unveiled.
Local consortium Energy Isles Ltd is behind the proposal, which would be located at the north west tip of the island and have a combined capacity of 200MW, enough to power tens of thousands of homes.
The area currently consists of open moorland, burns and lochs and is mainly used for sheep farming.
It is the latest wind energy proposal for Yell. Peel Energy plans a 17-turbine farm at Beauw Field.
Last year North Yell Development Council launched five turbines at Garth, a scheme designed to feed income back into the community.
Energy Isles Ltd was formed in 2014, consisting of over 30 largely
local businesses and individuals.
It was created to form a plan for a windfarm, hoping to use spare capacity left over from the proposed Viking windfarm in a 600MW interconnector.
Chairman Paul Riddell said that the group was pressing ahead with its plans following a recent commitment from the UK government to allow island wind projects to bid in future contracts for difference (CfD) auctions.
Hopes for a 600MW interconnector were last week given a boost after plans to serve Shetland's electricity needs through a subsea link were rejected by regulator Ofgem.
The Yell windfarm would be located on a 2,212 hectare site around 1.5km west of Cullivoe and 1.1km south of Gloup, with the turbines proposed to have a height of up to 100m.
Mr Riddell said the proposed project could provide a massive boost to the local economy, adding: "If approved, we believe this would be a highly productive windfarm on a very good site that would bring substantial economic and social benefits to the north isles and to Shetland as a whole."
A full environmental impact assessment will be carried out before any consent from the Scottish Government is sought.
Public consultations will be held through meetings and exhibitions.