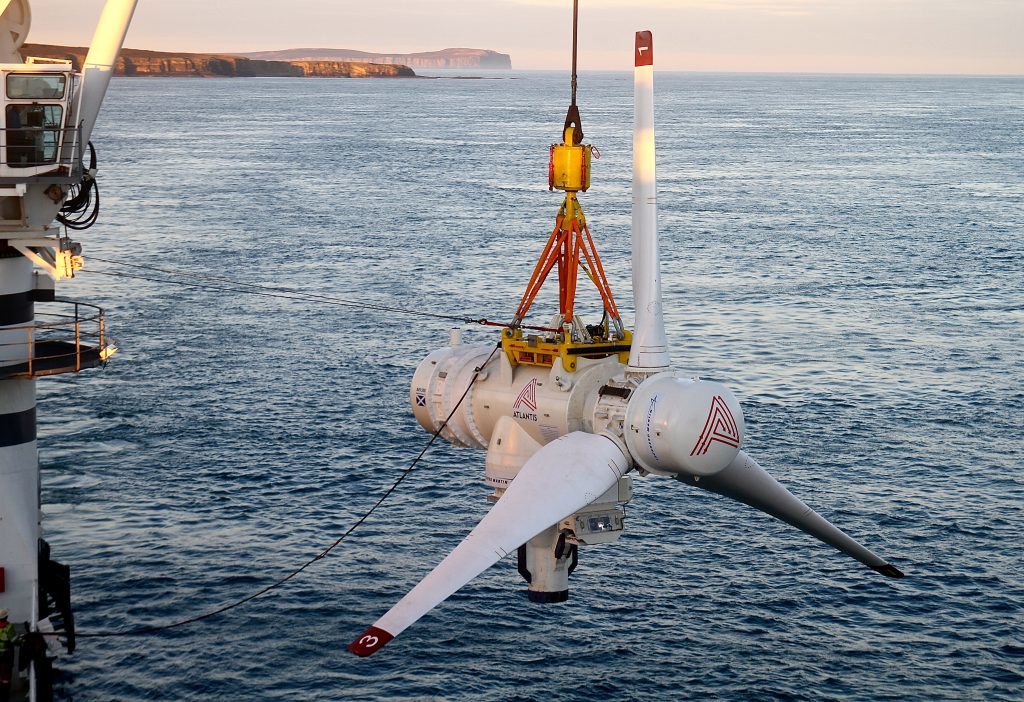 Scottish tidal power firm Atlantis Resources has become part of the Gupta family business empire after striking a deal for a power plant in south Wales.
Atlantis has conditionally agreed to acquire the 363-megawatt Uskmouth facility in Newport from Simec, the energy arm of billionaire Sanjeev Gupta's GFG Alliance.
In return, Simec will receive a 49.99% share of Atlantis, which will be renamed Simec Atlantis Energy and become part of the GFG Alliance.
The acquisition constitutes a reverse takeover of Atlantis, whose shares have been temporarily suspended on the AIM in London.
The deal is expected to go through in the first quarter of 2018.
Edinburgh-headquartered Atlantis said the deal would give Simec a stake in its portfolio of tidal projects, including the flagship MeyGen scheme in the Pentland Firth.
Uskmouth power plant will be partly converted to use an end-of-waste energy pellet as fuel.
The converted plant, slated to enter commercial operations in 2020, will sell all its power under two 20 year power purchase agreements to GFG companies.
Simec has been expanding its operations in the north of Scotland in recent years.
Together with sister company Liberty Group, it reached an agreement to buy the hydropower and smelting operation near Fort William from Rio Tinto for £330million in 2016.
Simec recently announced plans to develop a further eight hydro power plants on the estate around its Lochaber aluminium smelting plant, with the planning process slated to start next year.
And last month it struck a deal to buy Green Highland Renewables, a hydropower developer with offices in Perth and Dingwall, for an undisclosed fee.
Its portfolio includes the Lochaber and Kinlochleven stations with a total capacity of more than 100MW.
Mr Gupta, GFG's founder and executive chairman, said of the deal with Atlantis: "I am delighted to welcome Atlantis to the GFG Alliance with its highly-skilled team and ambitious projects.
"This is the first GFG Alliance member to be listed on the public markets, which in itself is a very important milestone for us.
"In addition, the potential for this business to create enormous value in the renewable energy market in the near term is tangible and very exciting."
Jay Hambro, GFG's chief investment officer and chief executive of Simec, said: "We believe in marine energy and in Simec Atlantis' position as the sector champion.
"Atlantis has an excellent track record of delivery in renewable power projects, so our partnership with them will ensure the successful conversion of Uskmouth power station.
"We intend the South Wales site to be a centre of excellence for renewable power technologies and a hub for green power generation.
"This transaction forms a major part of our ambition to create 1gigawatt of renewable energy capacity in the UK within the next three years."
Atlantis chief executive Tim Cornelius: "We are excited about the Transaction and the partnership with Simec and the broader GFG Alliance which will enable us to accelerate our growth and the diversity of our business.
"The acquisition of Simec Uskmouth Power, together with the 20 year power purchase agreements and 20 year fuel supply agreement, is significant in itself and we believe the transaction will deliver material value to Atlantis Shareholders through the robust contractual structure we intend to put in place.
"The due diligence findings and pre-FEED work carried out to date by leading global engineering firms, support our conversion strategy and we will be fully focused on ensuring that the necessary work is undertaken to allow conversion work on the plant to start as soon as possible following completion."