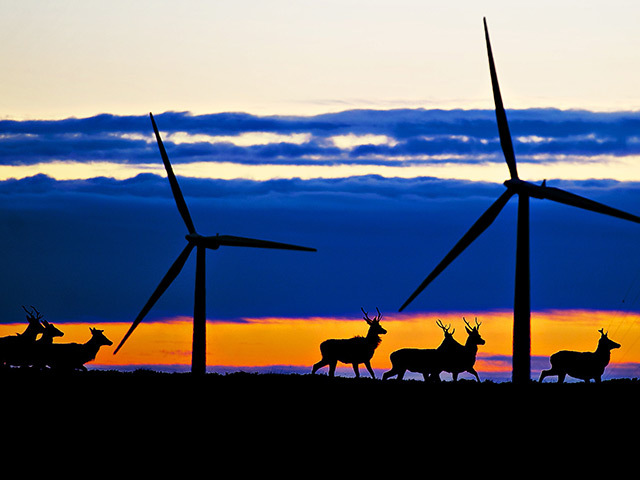 Low-carbon technologies generated half of the UK's electricity in 2017, outstripping the combined power from coal and gas for the first time, analysis shows.
Renewables and nuclear power accounted for just over 50% of generation last year, with 46.7% coming from gas and coal, according to figures from the Carbon Brief website, which reports on climate science and energy policy.
It is the first year low carbon sources outstripped the two major fossil fuels for UK generation, it revealed.
The analysis, which is based on data collated by Dr Iain Staffell at Imperial College London for Electric Insights, found coal generation dropped again in 2017 and only generated 6.9% of power.
Meanwhile wind power generation rose due to more turbines and higher average wind speeds, and generated twice as much power as coal across the year.
In total renewables, which also include solar, hydropower and biomass as well as wind, generated 29.1% of the UK total in 2017, up from 24.5% in 2016, the Carbon Brief assessment shows.
And there were 1,226 half-hour periods where coal was not generating any power at all, the equivalent of more than 25 days.
There were three full days with zero coal, on April 21 and October 1 and 29.
The latest analysis comes after data from WWF and National Grid which showed a slew of "green" records were broken in 2017.
The shift to renewables, with record moments of output for solar, wind and hydropower, meant new low levels of carbon pollution from electricity were seen in 2017.
And the cost of new offshore wind tumbled in the latest Government auctions for support for the technology.
This year was hailed by environmental campaigners as the "greenest year ever", with 2018 expected to see an even cleaner power sector – but there were calls for more Government support for low carbon electricity to reduce dependency on gas.
Industry body RenewableUK's executive director Emma Pinchbeck described 2017 as the year when low carbon energy "came of age".
"This is not now some hypothetical transition to renewables, pushed from Whitehall departments or by climate change campaigners but the realisation of a powerful new energy market, one that has been driven by the success of the UK's renewables industry," she said.
But she urged the Government to "crack on fast" with policies that reflected the new reality, including lifting the ban on new onshore wind projects where they have support, backing for wave and tidal energy and recognising offshore wind as a key industrial opportunity for the UK.
"A new year calls for a fresh approach – we have shovel-ready clean energy projects which can be built if ministers create the right conditions for our industries to continue to grow," she said.