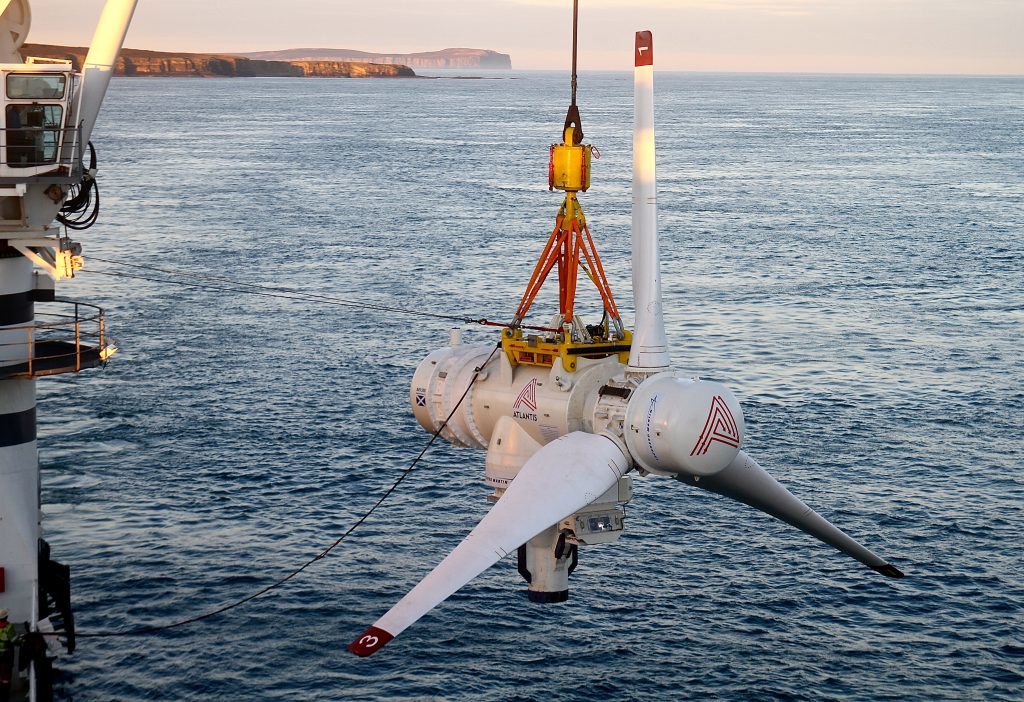 Tim Cornelius heads up one of the companies paving new energy paths in tidal.
As his company writes a new future, the Atlantis Resources boss is conscious that it will be history who will judge the success of his journey.
"A lot of it is just sheer bloodymindedness," said Mr Cornelius.
"Part of who I am these days is about having to deliver on the amount of faith and trust that has been put in me personally and in my management team by the City of London, our investors, governments on both sides of the border in order to deliver this industry. I very much relish that opportunity and responsibility.
"When history looks back at tidal energy, hopefully it will say that we were at the vanguard."
The chief executive is the man responsible for the Atlantis Meygen project, currently the largest and most successful tidal turbine project in the world, aimed at proving the viability of the industry.
In August 2017 the project, based in the Pentland Firth between Scotland's northernmost coast and the island of Stroma, celebrated the Meygen tidal array exporting more than 1GWh to the National Grid, a record for any tidal energy project and enough to power around 700,000 homes.
"The company constantly has a new Everest in front of it.
"Every time we achieved a gigawatt, I know that we need 10 gigawats in order to prove a whole bunch of people wrong and show that we
can generate for X number of years without interruption," said Mr Cornelius.
Born in Melbourne but brought up in Adelaide, Australia, Cornelius arrived in Scotland to work with Subsea Offshore, now Subsea 7, as a construction diver.
Approached by Atlantis while back at university to undertake an MBA in robotics and fiberoptic engineering he liked what he saw in this new business.
Hired just before the Meygen project began to take shape, Mr Cornelius' star has risen in tandem with the success of the tidal array. Under his captaincy, the Atlantis tidal project has transformed from concept to the project leading the tidal power sector.
Yet, despite being the most well known tidal project in the world, there's still a frustration present concerning tidal energy and how it's often misunderstood.
"The tidal market has had a period of time with which it's had to gestate, prove itself before it can command and demand more column inches.
"In reality, for a company of our size, we get a disproportionate amount of coverage and that's because what we're doing is genuinely world leading," said Mr Cornelius.
"I don't think there's many opportunities these days to say you're doing the first, the biggest, the largest. We're doing it all under real time, we're doing it under huge public scrutiny.
"We would say as a company we are pretty well covered. However, as an industry, it's poorly understood.
"That said, the more success we have at Atlantis the more mainstream media starts to cover us.
"Now we get not just coverage in Scotland, we get coverage country wide and more importantly as we broaden our portfolio from Canada to Indonesia to the oppor-tunities we're looking at in India and China. Now there is a much broader appreciation for what tidal power is."
The more people hear about tidal energy the more enamoured they become with it, and the notion that the solution to unobtrusive clean energy was right on the country's doorstep is an idea that's increasingly holding water in Scotland, according to the company leader.
"The fact that you can't see it and you can't hear it, people adore that. I think naturally it plays to people's fascination with the ocean.
"Everyone loves gazing out to sea, everyone understands the enormous power of the sea and people believe that harnessing it must be an environmentally benign, good thing to do," said Mr Cornelius.
"More importantly, why spend time trying to promote more onshore wind? Why spend more time figuring out how to frack? When we can deploy turbines out of the way that don't harm anyone.
"I think people have a romantic attachment to that idea."
Yet the Meygen project has also weathered disappointment after failing to win subsidy support from the UK Government's Department for Business, Energy and Industrial Strategy (BEIS) which it believed to be ringfenced, making it unable to compete effectively with wind and solar, according to the chief executive.
"Where obviously we've been let down is with Westminster. We all made investment decisions predicated on a piece of legislation that was in place, protecting a certain amount of funding for tidal power, and for whatever reason that was withdrawn and it's taken two years for us to now re-engage meaningfully with BEIS.
"Now we've demonstrated Meygen, now we've proven to the world that not only can this be done – it can be cost effective – BEIS are re-engaging once again," said Mr Cornelius.
"When we've transitioned through the period where substantial grant funding is required and we've moved into a commercialisation phase what we need is long-dated feed-in tariff support, similar to all other industries such as analogous industries – solar, offshore and onshore wind.
"With a long-term feed-in tariff, like the CfD mechanism that exists in the UK, we can now deliver long-scale, bankable projects.
"A direct benefit of the funding that we've received historically is that we've been able to transition our portfolio so that it's not reliant on CAPEX grants, it just needs standard feed-in tariff mechanisms.
"What is imperative, and is the takeaway message, is that we are actively, right now lobbying BEIS. We want 80 megawatts of capacity and we want that at £150 on the megawatt hour on the strike price for 15 years. That can be given at the stroke of a pen."
Despite the obvious setback, it's Cornelius' confidence in tidal power and his ability to convince others of its viability that is easily Atlantis Resources' trump card.
"It's about just getting runs on the board.
"Look let's be honest, at the moment Atlantis is effectively leading and creating an industry.
"On the back end of that there are a lot of companies in our ecosystem, there are a lot of investors in the supply chain who have a huge vested interest in the success of our portfolio and that's a wonderful place to be," he said.