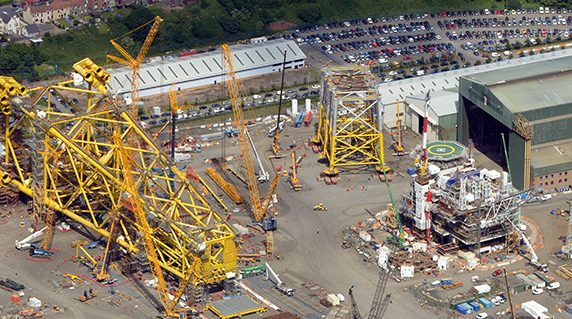 Workers are being made redundant at the BiFab yard in Lewis which is preparing to be mothballed within weeks.
Around 25 personnel were due to be paid off yesterday.
A handful of redundancy notices have been postponed, it is understood, but the workforce has dwindled down to around 50 people – less than a third of the numbers employed two months ago.
One employee yesterday confirmed workers were being paid off saying mainly a squad of painters will remain on the shop floor as its only contract – for an offshore wind farm – winds down.
Another suggested "painters will have another few weeks" but only a small crew will be left by the end of the month.
Around 160 personnel were recently employed at BiFab's Arnish site in the Western Isles but that number has fallen by two thirds as work tapers off.
Three structures manufactured at Arnish are presently on site but one is due to be shipped out next week. Another is completed and ready to go.
Western Isles MSP Alasdair Allan said: "This has been a very difficult time for everyone at the yard.
"We want to find new orders for the yard – there are opportunities in the renewable sector just now.
"The Scottish Government will work with everybody involved."
Scottish Government's activity over carving out a future for the BiFab yards "has not stopped" said the MSP.
Now the focus is about making sure the "yard here has orders and work for people on Lewis. That's the activity going on in the background now.
"Paul Wheelhouse has been actively involved in it in recent days."