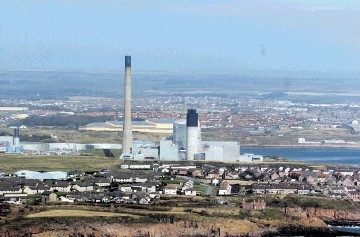 Newly-appointed Energy Minister, Claire Perry, says the UK Government wants to look at Carbon Capture and Storage (CCS) "really seriously", just over two years after Westminster axed a £1billion grant to develop the technology.
A project backed by Shell and SSE at Peterhead Power Station was among the preferred bidders to fit the new CCS technology when it was cancelled in November of 2015.
CCS is used to capture pollution from power stations or industry and store it underground in a bid to reduce greenhouse gases.
At the time, industry figures called the move to pull the funding "devastating".
However, Ms Perry says the UK Government is committed to developing the technology which she calls "vital" in meeting emissions targets.
"We've been doing a lot of work on this because without that technology we will not achieve our decarbonisation targets, whether it is power generation or in industrial processes.
"The problem we've had is no one is doing it cost-effectively. There are 21 plants globally, 16 of them use enhanced oil recovery as a revenue stream, the others just rely on incredibly big subsidies from somebody.
"I see my job as to decarbonise, keep bills down and develop technologies that we can export around the world."
Ms Perry admitted that dropping the £1billion competition grant was "disappointing", but added that the format did not meet the tests of developing the technology in a cost-effective way.
"Roll-forward now, we've got the oil and gas climate initiative, 10 of the world's biggest oil and gas companies coming together wanting to spend a billion pounds on this technology, we're working very actively with them to make sure we're the first place that they invest.
"We've got a carbon capture taskforce to drive the cost down – like we did with offshore wind – and we've got £100million of new money to spend on innovation.
"We see it as vital, we want to be a world-leader in the new technology, but we need to do it at the right price."
On the future however, she was not drawn on whether north east Scotland would hold a preferred site for using the technology.
"We are happy to work with anybody. When we do this it will be on a competitive basis."
Recommended for you

BP, Linde plan hydrogen, CCS infrastructure near Houston