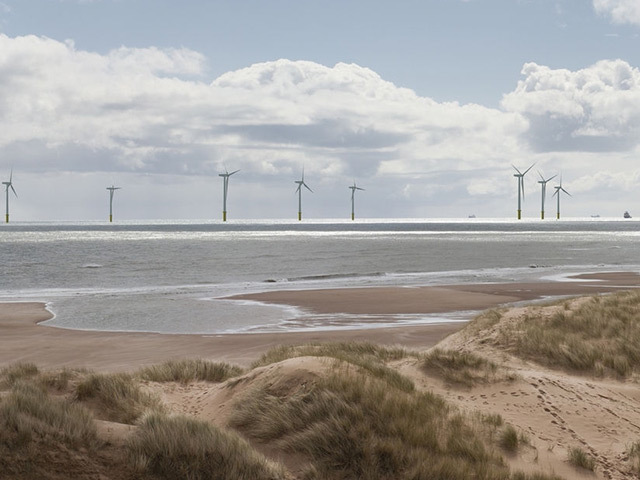 Vattenfall, developer of the Aberdeen bay wind farm, confirmed at a public consultation yesterday that the project will boast the world's tallest and most powerful turbines upon completion.
Sitting nearly 1.5 miles off the Aberdeen coastline, the development will see eleven 191 meter turbines able to operate at 8.4MW.
Capable of powering one household for an entire day in one turn, once finished the development will be capable of delivering 70% of Aberdeen's total energy demand.
Kevin Metcalfe, Vattenfall's turbine package manager, said: "It's very exciting for us to be using these turbines. They will be the largest offshore wind turbines in the world.
"This is a really exciting and innovative project which will bring a positive change to the local community."
The Aberdeen bay wind farm will be taller than both the Gemini wind farm in Holland (154m) and the London Array development at 147 meters.
At a towering 191 meters, the eleven turbines will be double the size of Big Ben, the equivalent height of 19 double decker buses.
Mr Metcalfe and wind farm installation manager, Alistair Leighton, also confirmed that the wind farm will be 'virtually silent' once finished and therefore will not disturb any mammal or marine life living in Aberdeen bay.
Mr Leighton also confirmed that the project's use of innovative suction buckets will mean that there is no requirement to drill into the ground, therefore causing less ecological damage to the area.
The development will use three suction buckets per turbine and will use a pumping technique to burrow "13 meters into the seabed" within Aberdeen bay, Mr Leighton said.
Mr Metcalfe also confirmed that Vattenfall has carried out the necessary assessments to ensure that the wake created by the giant turbines would not be hazardous to local seabirds.
Recommended for you

First turbine installed at giant Seagreen offshore wind farm